The DeLorean - one of my favorite cars as a child (because of Back To The Future), a durable and rugged vehicle (because of the solid steel body), and a corporate disaster (because the company lost 2,500 jobs and over $100 million). But, it's still an awesome car because of the Back To The Future connection. And a company called DMC in Texas has been producing them for years using original frames that were bought out of liquidation, and a claimed "80% original" parts in the "new" vehicles. They start at around $57,000 and are completely awesome.
In an attempt to keep up with the "Green" movement, the DMC Company has decided to add another option to the mix - an electric model. And it's supposed to cost over $100,000. Isn't green supposed to mean cheaper? Oh well, at least they're still making the cars. Unfortunately, you still can't buy the awesome watch John DeLorean, the founder of the original company, was planning to sell before he died to finance a new version of the DeLorean. Click here for a picture of that wonderful hunk of steel he was selling for only $3,495.
Well, I guess they could also go back to the original promotion of the DeLorean and make a gold plated electric model - that might be worth $100,000. American Express did a promotion with the company in the 1980's and came up with an offer to let 100 of their cardholders buy a gold plated DeLorean that looks like this: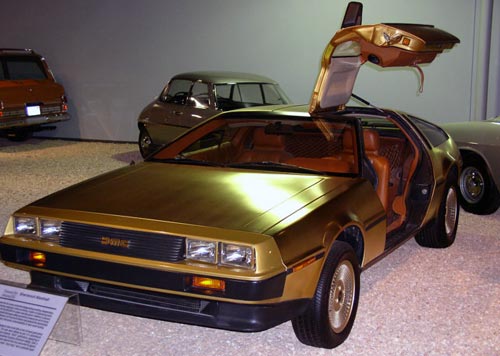 Surprisingly, only three of them were sold. But un-surprisingly, I now have something new for my Christmas list this year.
Source: Your Houston