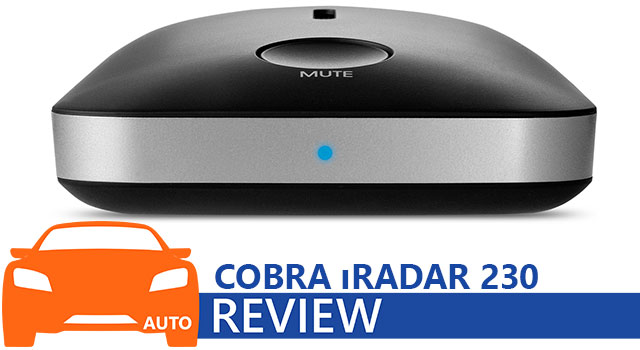 Let me start this review off with a story. Have you ever been driving down the highway, minding your own business, when someone comes and rides your tail? My typical move in this situation is to slow down, since it's a safe move and will really upset the tailgater. Last weekend I decided to go a different route, and when one of those tail-riders approached my bumper I was ready to hit the gas hard when the Cobra iRadar 230 that I was testing on my dashboard started beeping. Instead of speeding up like I had planned, I moved into the other lane and saw the tail-rider fly past me. Three-quarters of a mile down the road I waved at him as I passed by. The cops had him pulled over, and I felt a strange sense of satisfaction.
If our review was based solely on that situation, the iRadar 230 would have our seal of approval, but let's dig in a little deeper.

Cobra iRadar

The iRadar 230 is the upgrade to the iRadar 200, and comes with built-in bluetooth to pair up with an Android or iOS smartphone app. Once paired, the unit uses both the radar detector unit itself, and an online database with real-time speed trap and red light camera notifications. And when you run into a speed trap or red light camera, you can upload it to the cloud and share it with other iRadar users. The app also comes with Google maps, music control, a traffic map, and more. At a $99 retail price, it includes a fair amount of bonus features for the cost, especially if you're pairing it with a smartphone.
Caveat: if you're new to radar detectors, the first thing to know is that radar detectors aren't perfect. If a cop doesn't have his radar gun on, a radar detector can't detect it (it sounds simple, but some people don't get this). And if other things like automatic door systems at grocery stores are using radar, they'll detect it.
That's why the companion app is nice. When you crowd source red-light cameras and speed traps, you can supplement the radar detector's built-in controls and boost your chances of being made aware of the radar gun before it's aware of your excessive speed. The highway/city mode (accessible through the app) helps get rid of those false positives as well. Usually the false alerts come from automatic doors, and the city setting tries to weed those out as best as possible. Again, it's not perfect, but that's not the fault of the radar detector - blame your local Wal-Mart for making it easy for older people to enter their stores. Then feel bad about yourself for blaming the golden generation for your problems.
One nice bonus for the unit is that it includes a USB port on the charger so you can charge your smartphone along with the radar detector. Nice work, Cobra.
What's In The Box?
The Cobra iRadar 230 Detector
Power Cord (works with your car's power plug/cigarette lighter)
Windshield Mount
Quick Start Guide for Android and iOS
The apps can be downloaded for free here for Android and here for iOS.

Pros and Cons

PROS: The Cobra iRadar works with or without an Android or iOS smartphone - the car charger has a USB port to charge a smartphone - the app is free and works well - the iRadar 230 does a great job for the money.
CONS: There are false positives, especially in a city setting.

So what's the verdict? This is a great radar detector for the money even as a stand-alone unit. Once you pair the unit to a smartphone, it's a great addition to your arsenal on the road. Plus, at only $100, you only need to prevent one speeding ticket to make it worth the purchase. The Cobra iRadar 230 gets our seal of approval.
Purchase it here: Amazon