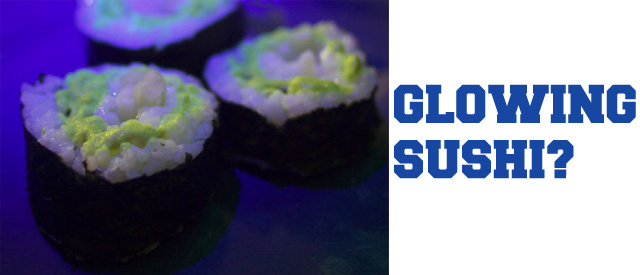 So growing up in the 80's, (no comments Ray!) (Editor's Note: too late...more like the 60's, old man) in the waning days of the nuclear arms race and 3 Mile Island, we always were told radiation will make you glow in the dark. So please tell me why in Zeuss's hole do I want my sushi to look like someone dumped a glow stick over it? I don't care if this fish was genetically mated with a uranium core and raised in reactor coolant that will makes it the most expensive or best tasting in the world - I want nothing to do with it.
Glow sticks are ok at house parties, and cosmic putt putt or bowling is fine but there is no way in hell I'm eating anything that glows in the dark. But that's what is happening now:
If you go to your local pet shop, you can buy genetically modified fish that glow. And there's now a video online that shows you how to turn those glowing fish into glowing sushi.
The fish are available in a choice of colors - Starfire Red, Electric Green, Sunburst Orange, Cosmic Blue, and Galactic Purple. The recipes for them are named 'kryptonite roll', 'stop and glow nigirizushi', 'not in California roll', and they even have a glowing pizza.
And now the same team is working on showing you how to cook with genetically modified glowing mice too. Yum. Check out the link below for the video and website to make your own.
[Source - GlowingSushi.com]