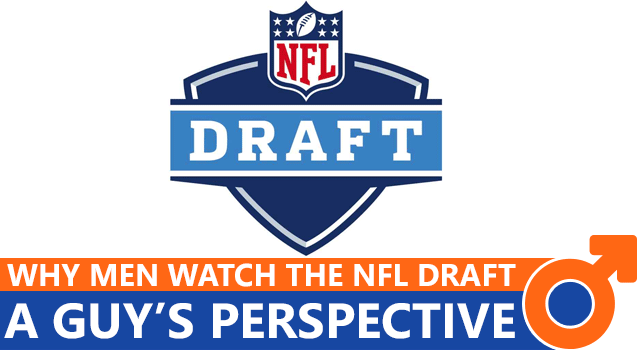 Last year on a Thursday night, I was at a friends house having a couple meatball subs after we got home from a baseball game. We were talking, relaxing, and having a good time when I realized that it was way past 8:00. Then it was panic time. The NFL draft was on and we were gorging ourselves on food. What was wrong with us? We were missing out on the future of the NFL!
We frantically turned on the television in time for the 10th pick. We saw that Eric Fisher, Luke Joeckel, and Tavon Austin were off the board as expected, and some guy named Barkevious Mingo went to the Browns and ended his career. The pick is in...the Tennesee Titans select...Chance Warmack?
I don't follow college football so I didn't know that name, but that was just a down pick right? I'd definitely know the next few. D.J. Hayden, Sheldon Richardson, Star Lotulelei, and Kenny Vaccaro were selected after Kuechly and I knew a total of zero of those names. Although, I did see some "highlights" from earlier in the draft and Googled Detroit Lions pick Ziggy Ansah to see if he was really wearing 3D glasses from a movie theater. Spoiler alert - he was: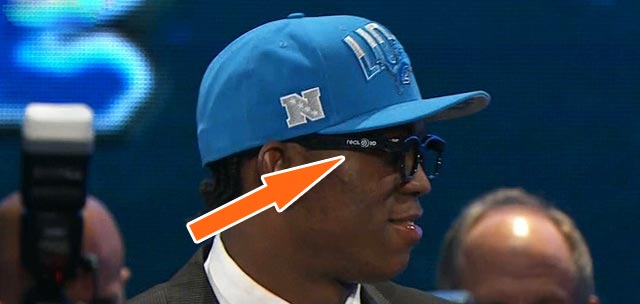 Past that, I realized that I kept stopping the conversation with my friend to see the next draft pick, and then I had no idea who they were. But I still watch it. And I'll watch the second and third rounds on day two, and then the final rounds on Saturday, and I'll even watch on Sunday during the recaps just to learn more information on players that will have the slightest of impacts on their teams this year. My old roommate even watched the scouting combine like it was his job. At one point, he was watching in our living room for about an hour before he realized that it was a replay of earlier in the day. He actually sat through 40-yard dashes and passing drills for so long that he watched them twice.
Thanks to the marketing genius of the NFL, we're addicted to their product. And unfortunately for our free time, there's no rehab for this.
Why do we do this to ourselves? The first Super Bowl was considered a rip-off and didn't even sell out. How did the NFL surpass baseball as the new "America's Game"? I think it's an easy answer. Men have shifted from manual labor for their jobs, and playing sports and hanging out with their friends in their free time like we did in the 50's and 60's to desk jobs and playing online video games to interact with their friends. Now we need to find an outlet. Grown men destroying each other on the field while doing something most every guy would love doing for a living seems to be that outlet. Basketball has become a sport of divas, baseball has always been the longest 8 hours of anyone's life to watch a game, and hockey (although a truly great sport) just isn't widespread enough. Football is our modern-day gladiator ring.
Because of that, we want to know everything there is to know about the competitors. We want to second guess every decision our teams GM and Coaches make. We'll watch an entire cable channel dedicated to Red-Zone scoring plays to bide the time while we check fantasy football stats. The NFL has permeated every aspect of our Sundays in the fall, and now they are looking to control our off-season as well.
Hey, NFL! How about a new channel dedicated to watching the entire training camp for each team this off-season? That way we don't have to leave our couch at all. You want to charge us $200 a year for that? We'll let you. Gladly. Or maybe an inside look at our favorite NFL Weight Room? Perfect.

True story: my roommate was watching the NFL Combine this year, and had been doing so for many hours. At one point after I had watched about 30 minutes of it with him he said these words: "oh man, this is on a loop. I've already seen this." The guy had watched so much of the draft thinking he was on par with real NFL scouts, and the poor guy wasn't able to realize that he had already seen those players running a 40 yard dash and playing catch before. I guess he wasn't taking notes. It's really not his fault though, once again I blame the NFL marketing team for their ability to lure us in to their product. Well done, business school grads!
With that being said, it's time for me to find out how much Ziggy paid for the custom 3D glasses and figure out where I can get my own pair. Enjoy the draft, addicts!