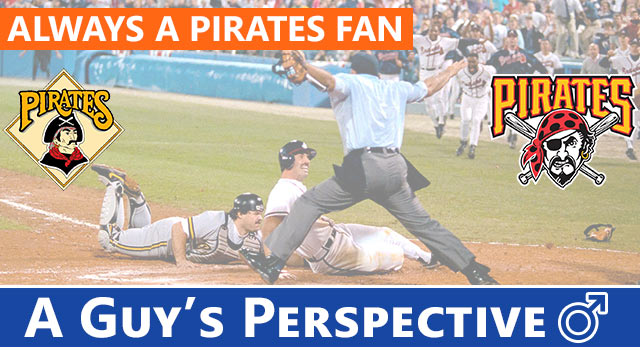 This article is in response to Why I'm No Longer A Pittsburgh Pirates Fan from last summer.
As I was sitting alone at the Rangers Ballpark in Arlington on Monday night watching the Pittsburgh Pirates get win #82, I spent a lot of time thinking about the past 20 years and all of the experiences that team has given me despite the losing. There are so many amazing memories that still stick with me. The first I can think of was the very first game I ever went to, my 6th birthday against the Expos with my Dad and one of my best friends BJ. I also thought of the times when the five of us in the family would go to a game, pay a total of $13 for tickets, $5 for parking, and sit out in the general admission area and scream for baseballs during batting practice. There was also the first time we ever sat at field level, for my first interleague game against the White Sox. That's where I got to see Frank Thomas up close, and was able to toss a baseball down to the bullpen catcher Heberto Andrade and get it signed (and yes, he's still with the team). Then there was the weekend where, for the first time in my life, I went to back-to-back games, and sat in a suite for one of them! I was able to see the first two homeruns of Todd Helton's career in those two games, even though I had no idea who he was.
There was the game where Dad and I moved down to field level from the outfield because there were only a few thousand people at the game. It was that game where I ended up catching two foul balls and got cheered for by the few fans that were there. A week later I was able to go to the final Pirates game ever at Three Rivers, once again a disappointing loss, but it was overshadowed by the amazing number of former players that were introduced and brought back onto the field; with one of the last being my baseball hero, Andy Van Slyke. I still remember crying when he was released, and cried just as hard when he was back on the field that night, and I still hadn't ever met him.

Six months later was the huge surprise that Dad and I were going to the first game at the best ballpark in baseball, PNC Park. The heckler behind us during that game was so epic we talk about it every game we go to, and the fact that I was responsible for hitting a beach ball on the field that was the first stoppage of play at the new stadium was a crowning jewel in my cap. A few months later, going to a game with my Dad's cousin, a sports writer, and see Randy Johnson strike out 16, including all 3 in the 6th inning on 9 total pitches. We spent the 9th inning of that game just waiting for Pirates closer Mike Fetters to make a funny face, because that was how we enjoyed the Pirates in 2001. In college we would come down to the ballpark and enjoy ourselves, like the time we all stood up and chanted "Run Home Jack" (remember the movie Hook?) to Jack Wilson, and he hit a homerun.
Then I got my dream job...I got to work where I loved. I got to sit in the front row of a June game, have my picture taken with Andy Van Slyke, get his autograph, shake his hand, and go home as the happiest person in the ballpark that night. I have no idea if we won or lost that game, but I know I met Van Slyke. I had the best co-workers, and I got to know the very players I had idolized for years. I went to the All-Star Game with some of my best friends, and experienced that amazing crowd. I stayed through the entire 18 inning win over the Astros, despite having to be up for church 6 hours later. All of these moments run together, but each game stands out; I've been to hundreds! Remember when the Red Sox came to town, and with a win the Pirates would be in First Place? I was part of the biggest crowd in stadium history, and the place was electric.
Now, I work in Texas and it's hard to believe that I was able to be on the road, away from friends and family, and see something like win #82 on Monday night. The players don't really know what it means, but for the 3,000-4,000 Pirates fans that were in that ballpark with me, we will never forget it. I was getting pictures with people I've never met and I'll never see again. For years I've had to put up with the laughter that comes with being a Pirates fan, and people always questioning why I would support that team after everything they had done.
It's for reasons like Monday night that I'm still a fan.
It's for the memories I've had with my best friends, and the greatest family ever. It's introducing a little brother to your favorite team, and seeing your Mom on the pitcher's mound on Mother's Day. I wish I had had a chance to watch a game or two with my Grandpa, just to hear the stories of the Pirates in the 20's, 30's, and 40's. I will do whatever I can to be at just one playoff game this year...just to experience it. For every bad Pirates event the last 20 years, there are an equal amount of positive experiences that stick with you forever, and for that I'm grateful. "The Streak" is no more, now we can start to talk about how many straight years the team makes the playoffs, or how many championships they've had, and hopefully some day I can pass this love on to a family, just like my Dad and Grandpa did for me.
That's the Pittsburgh Pirates to me, and that's why I'll always be a fan.
Be sure to follow arethepiratesintheplayoffs.com to see when the Pittsburgh Pirates are officially in the post-season.