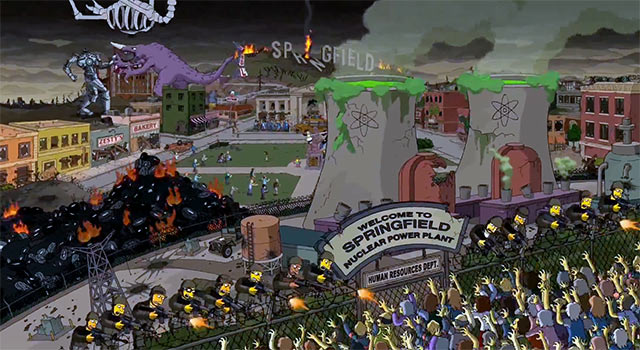 The Simpsons aired their annual "Treehouse of Horror" Halloween episode last night, and they included the best Halloween-themed opening couch gag they've ever had. And it may just be the most impressive TV show opening ever.
It's a story in itself, and it includes appearance from zombies, Wesley Snipes' Blade, dinosaurs, Alfred Hitchcock, Stephen King, the alien from Alien, Pale Man from Pan's Labyrinth, Phantom of the Opera, Frankenstein, the Mummy, a werewolf, Dracula, Bride of Frankenstein, the Creature from the Black Lagoon, the Invisible Man, Blinky the three-eyed fish, Nosferatu, Alice in Wonderland, and more.
The opening was the creation of Guillermo del Toro, who directed Pacific Rim, Hellboy, Blade II and more. It clocks in at almost three minutes long, and you can check out the whole thing below if you missed the original airing last night.