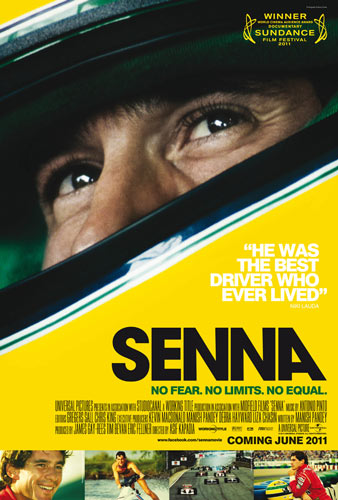 I had originally planned on doing an article on Formula 1 Racing and talking about the dominant Red Bull team and drivers like Button, Vettel, Hamilton. I had planned on introducing Bernie Ecclestone and his daughters; Bernie because he is in charge of the sport - and his daughters...well just Google them and you'll see why. Also, I just wanted to introduce readers to the sport itself. A sport in all its glory that is coming to our shores with races in Austin, Texas on November 16-18, 2012 and in New Jersey in 2013.
None of it fit together. If anything, the stuff I wrote sounded like it came from a 6 year old with ADHD who just snorted two pounds of Pixy Sticks.
That was until tonight. iTunes released an independent film called Senna as a rental (and it's also on Netflix). It's the true story of Ayrton Senna; a man, a humanitarian, and a competitor. It delves deep into the thoughts of one the greatest race car drivers ever. It's a powerful review of what he meant to his home country of Brazil, the sport of racing, and also how he raced with reckless abandon to win multiple world titles.
We watch him grow into dealing with rivals like Alain Prost and learning the politics of the race world. Ironically enough, we hear his own thoughts on mortality. I had a chance to talk to our own Mullet Hunter, and actual race car driver, Tron Valentine. Tron had this to say about the movie:
"Growing up around sports car racing, and now actually driving at the amateur level, you have your hero's just like every sport. With racing drivers there is often that first view, or sound of a car screaming by at your first race that infects you with the desire to race. Most of the time this is also teamed with that one driver that is the reason you started. For me, and countless others in the sport, Ayrton Senna was that guy. To me he embodies everything a great racing driver is; fierce, fearless, smart, and most importantly humble.
The way he could handle a car was far beyond what anyone else, past or present, could ever (or will ever) be able to do. Most impressively he was able to do this in probably the most competitive, and still dangerous, era in Formula 1 history. You can see by watching this epic film why his life will be celebrated for decades to come. It is very rare that you get such a combination of raw, unfiltered ability with the personality and overall good nature that was Senna. Forget the fact that he was the "Best driver who ever lived." Senna was one of the greatest human beings to ever walk the earth. And like all great icons of our age, he left us way too soon."
All in all, SENNA is: Bro Council, Approved. And it's a must see for all race fans.