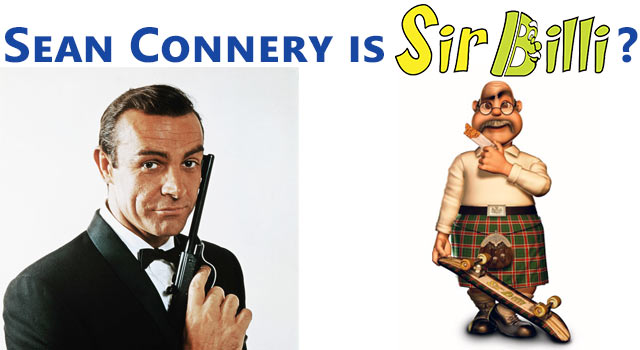 Sir Sean Connery has been one of my favorite actors, as well as the favorite of millions across the world, since his days as James Bond. He's very proud and patriotic of his home country of Scotland, and when an animated film was being produced solely in Scotland came forward for his help he couldn't resist…but he probably should have. One of the producers may have some blackmail on him, because I'm pretty sure that no one with his acclaimed standing in the acting world should have to be a part of this disaster.
Here's the description of the movie:
An aging, skateboarding vet, Sir Billi goes above and beyond the call of duty fighting villainous policemen and powerful lairds in a battle to save an illegal fugitive - Bessie Boo the beaver! A heart warming and action packed family movie where thrilling car chases, heroic skydiving and daring stunts from this octogenarian, fueled with encounters with a hostile submarine, will keep you at the edge of your seat!
Syfy network can't even come up with as bad of an idea as this one. And to think, Connery's last acting role in A League of Extraordinary Gentleman wasn't bad enough to actually retire on that he had to go and do this. You better have at least one more amazing role up your sleeve, Sir Connery. You can't go out like this.
Check out the video below.