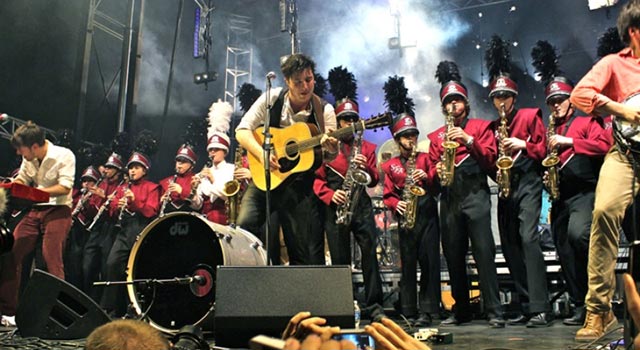 Mumford and Sons played at the South By Southwest (SXSW) music conference this past weekend, but it was the marching band that had everyone talking. The Austin High School band watched as filmmaker Emmett Malloy's premiered his "Big Easy Express," the documentary that followed Edward Sharpe, Mumford & Sons, and Old Crow Medicine on their tours.
The high school band was featured prominently in the documentary, and the crowd at SXSW ate it up. And so did Mumford and Sons as Marcus Mumford said "That's real music, ladies and gentlemen," and continued, "that's real music from real people."
The documentary will drop on Blu-Ray and DVD July 24th and follows the bands on a a train trip from California to New Orleans. It shows what life behind the scenes is like, and includes a performance with the high school band.
Also today, Mumford and Sons announced that their new record, Babel, will be released on September 24, 2012. It's a big day for Mumford and Sons fans, and you can check out a video of the marching band performance below: