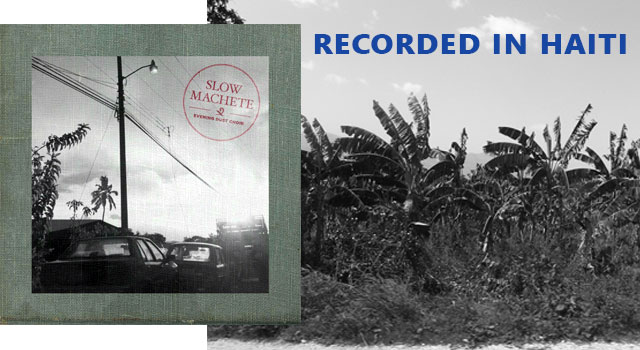 Joe Shaffer is a musician. And he has also traveled to Haiti several times to work with medical teams, clean water initiatives, and orphanages. Slow Machete is the marriage of his music with his love of Haiti, and what spawned is a unique, and great, album.
The album was recorded during Shaffer's trips to Haiti, he made friends with several local musicians and the album was launched from those relationships. He calls it a "soundtrack for experiences," and you can feel that in the music. There are lyrics, but they are complements to the music which he captured by looping samples that he recorded on his trip.
You know what else is great about the album? It's available free on Bandcamp.
When asked about the significance of the album, Shaffer had this to say, "Haiti is a wonderful place, music everywhere, honesty and directness in people that's incredibly refreshing." He continued, "I can't ignore the difficult situations people are facing like how horrible cholera is right now, but I think my objective is to give an honest representation of how I perceive the culture, and that culture is incredibly beautiful.
The recordings were split between a few places: DC, a tunnel in Pittsburgh, Costa Rica, Montevideo, and Cap Haitien, Haiti. He would record hours upon hours of his recordings and then mix them with field samples, movie samples, and drums that were mostly native percussion. He matched those with the sound of pitched down machetes he would record hitting, chopping, and swinging against objects in his apartment in Costa Rica.
Check out the album here on Bandcamp. You won't be disappointed.