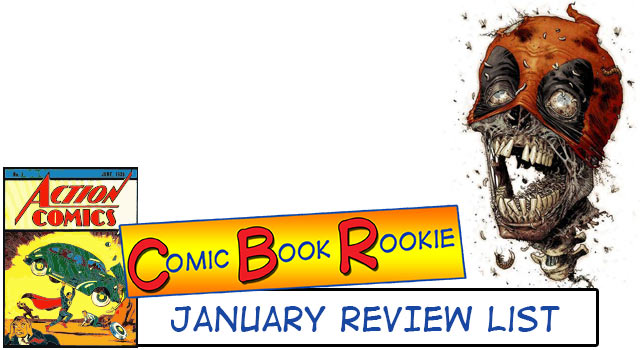 Welcome to the first Comic Book Rookie review of 2014. We are unofficially calling it Zombie month since, while we have detailed plenty of zombie related titles in the past, the new year brought us two great new ones from Marvel.

First up, we have the brand new Deadpool mini-series which gave us two issues this month, in a creatively titled series called Night of the Living Deadpool. Our favorite merc with a mouth awakes from an all-you-can-eat taco induced coma to the zombie apocalypse. Both of the issues were filled with Wade Wilson's typical sarcastic dialogue in the yellow word bubbles. We find out he is the last superhero (OK, the closest thing to a superhero) left on earth, as he is found by a group of survivors fighting their way back to a safe zone. It's not your typical zombie title. Yes, there are zombies attacking and eating humans, but these zombies are aware of what they are doing and how wrong it is, but are unable to control themselves. This is a definite pick-up even if you're not a zombie fan, as the issue provides a lot of comic relief. Check it out.

It's been documented many times that the master of the zombie genre himself, George Romero, is not exactly a fan of The Walking Dead, even though the comic-turned-TV-phenomenon has helped the zombie craze reach the insane level we are living in. On top of TWD and the countless number of zombie movies, there are plenty of reports of zombie related TV shows being developed as CW is working on a small-screen adaptation of iZOMBIE, and another studio is in the process of turning Max Brooks title Extinction Parade into a show. Overload right? No room for any more zombie stuff? Well, this is George Romero - the guy who brought us the original Night of the Living Dead.
Knowing that, I was ecstatic to hear that he was teaming up with comic powerhouse Marvel to bring his own zombie title out. Empire of the Dead debuted last week and I must say this is a must "pick." Not surprisingly, EoD is one of the best-written comics I have read and the first issue is spent introducing you to the characters. The world has been in this post-apocalyptic period for some time, and some believe that zombies still have human thoughts. We get some perspectives of the zombies, and we also see people who are profiteering off of the dead by hosting gladiator style fights between them. It's a thinking man's zombie story. Oh, and there are vampires.
Wait...what? That's right, there are vampires. But unfortunately, we'll have to wait until next month to find out more about them. This is hands-down the best new title of the month.

Honorable mention goes to Issue One of a new mini-series brought to us from the mind of Alyssa Milano, yes the same girl who played Tony Danza's daughter on Who's The Boss. The title is called Hacktivist, and it's about two social media moguls that are secretly using their talents much like the "Anonymous" group does as they help support rebellions and the little guy who is being wronged. I wasn't sure if the girl from Charmed would make a great comic when I first heard about this, but I decided to give it a go and was pleasantly surprise. It was filled with propaganda like many other titles have done, but the solid writing and serious storyline make this a good pick-up.
Thanks for reading, and we'll see you next month! In the meantime, feel free to check out our past issues here.