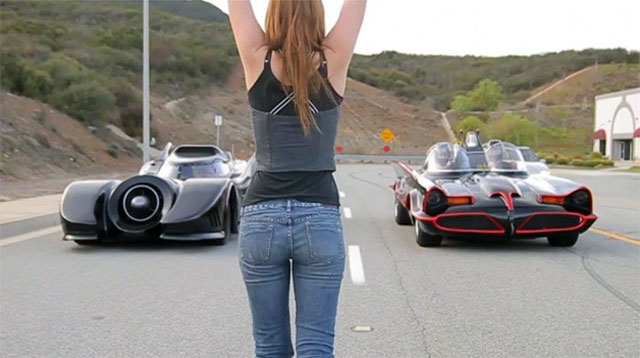 Batman vs. Superman is a common debate question. But what about Batmobile 1966 vs. Batmobile 1989? It hasn't been as divisive as the first question, and in all honesty I never thought about it until today. Then this video happened into my inbox. The website AutoBlog decided to test out which Batmobile was better.
From the site:
Bets are made, flags are dropped an one vehicle stands above the other. We won't spoil it for you.
We will say there seems to be some on-screen trickery afoot, however. Watch closely, and it's clear the '89 holds onto left lane at the beginning of the race, only to swap places in the slow-motion replay. Something tells us this game was rigged from the start. Hit the jump to see the full episode for yourself, but be warned. Fair warning: the finale sequence may be Not Safe For Work for some of you. Maybe there's something else nerds love more than arguing and flexing their trivia muscle.
Check out the video below. Oh, and Marisha...contact us. Ray wants to propose to you.
[Source - AutoBlog.com]