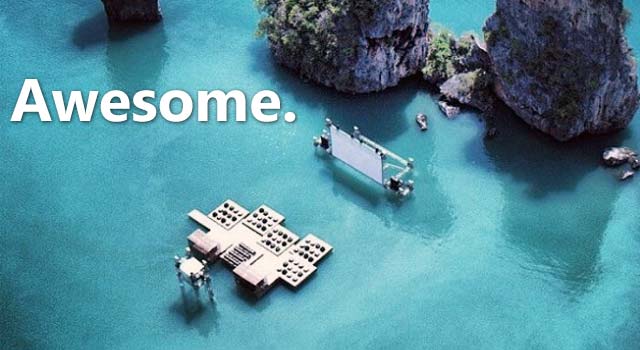 Do you love movies? What about water? Personally, I love being out on a boat watching movies, and the rock islands in the seas of South East Asia are incredibly beautiful. So how do you combine all of those things? You build a floating movie theater in Thailand.
Ole Scheeren, is a german architect based in Beijing China and he has designed a floating screen out of lobster fisherman rafts and tires, as well as a separate platform complete with beanbags for viewers. It was built for a movie festival called "Film on the Rocks," and after the festival the tires and rafts went back to the fisherman. Then, life in the bay of Bengal went back normal.
The only issue we have is that the architect described his setup like this:
A screen, nestled somewhere between the rocks. And the audience... floating. Hovering above the sea, somewhere in the middle of this incredible space of the lagoon, focused on the moving images across the water. A landscape of pieces playfully joined together. A sense of temporality, randomness. Almost like drift wood. Or maybe something more architectural. Modular pieces, loosely assembled, like a group of little islands. A congregation of rafts as an auditorium. Archipelago Cinema.
It's a floating movie theater. Stop being so "artsy" about it and use real words to describe it - like this:
Check out the awesome floating movie theater below.