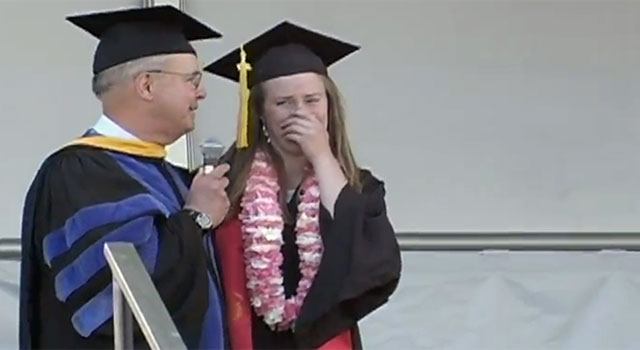 A reader sent us a video of a Marine surprising his sister at her college graduation, and I have to admit something: I teared up when I viewed it. Maybe even cried a little.
Alright, stop judging...go ahead and watch the video and see if you can help yourself from tearing up. And then go check out the Welcome Home Blog to see more videos like it and try not to bawl like a baby. Based solely on my experience, I think it's impossible. Here's the description of the video from the site:
Our son, recently home from Afghanistan, surprises his sister during the graduation ceremony at California Polytechnic State University, San Luis Obispo. She was extremely disappointed when we told her he would not be back until the end of the month. Guess we lied a little. Ok, a lot. A special thanks to all at Cal Poly who made this possible. Enjoy!
Hey, we're all about being "manly" here at Bro Council, but if you don't get choked up a litle at this video you may want to check your pulse.
[Source - Welcome Home Blog]