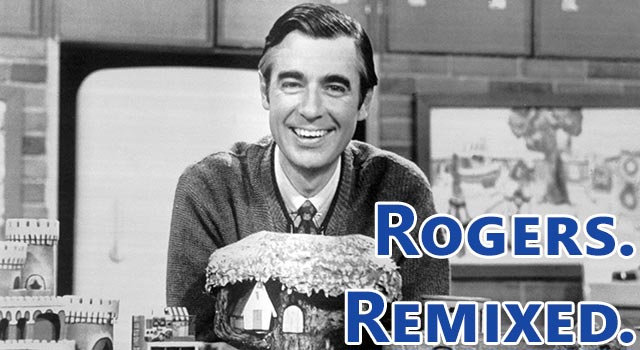 I grew up as a Mr. Rogers fan, and it disappoints me that he has been replaced by Sponge Bob and Dora the Explorer. The man was an amazing person, and put out the best children's show of all time. And now he has been usurped by a talking sponge and a repetitive little girl whose only friend is a monkey. Disappointing.
In memory of it being ten years today since Mr. Rogers passed away, we bring you the PBS commissioned remix of Mr. Rogers. Yes, you read that right - a Mr. Rogers Remix. And it's official, PBS Digital Studios commissioned Symphony of Science's John Boswell for the remix.
Before you watch the video, here are 15 facts about Mr. Rogers for you thanks to PBS:
What is the longest-running program on PBS? MISTER ROGERS' NEIGHBORHOOD enjoys that distinction. Its first nation-wide broadcast was on February 19, 1968.
How many miles does the Trolley travel during one year of Mister Rogers' Neighborhood programs? The Trolley travels approximately 5,000 miles a year.
Which museum displays one of Mister Rogers' trademark sweaters? The Smithsonian Museum in Washington, D.C. has one of his sweaters on permanent display in the American History area of the Popular Culture collection. It has a place near Archie Bunker's chair, J.R. Ewing's top hat, and the gown that Ginger Rogers wore in the movie "Top Hat."
What Hollywood film star once operated the Trolley for Mister Rogers' Neighborhood? Michael Keaton, a native Pittsburgher, operated the Trolley when he was on the studio crew during the 1970's.
What was Fred Rogers' first television job? In 1951, he was hired as an assistant producer at NBC in New York City. The studio where Rogers worked in that capacity is the very same studio that produces "Saturday Night Live," which showcased Eddie Murphy in his popular spoofs of MISTER ROGERS' NEIGHBORHOOD.
Over the years, who has done takeoffs on Mister Rogers? Johnny Carson, Robin Williams, Harvey Korman, cast members from SCTV, and even the NBA basketball star David Robinson join Eddie Murphy in the list of those who have spoofed Mister Rogers' Neighborhood and its host.
Before Mister Rogers' Neighborhood, Fred Rogers did another television show, what was it? "The Children's Corner," the precursor of Mister Rogers' Neighborhood, was broadcast on WQED in Pittsburgh from 1954 to 1961. Fred Rogers co-produced this half-hour program with its host, Josie Carey. He also manipulated the puppets and played the music.
Which puppet was the first to make a television appearance? Daniel Striped Tiger made his debut on "The Children's Corner" on April 1, 1954.
How did Daniel Striped Tiger get his name? The night before "The Children's Corner" went on the air for the first time, WQED's general manager, Dorothy Daniel, gave Fred Rogers a tiger puppet. That puppet immediately joined the show and was named in her honor.
Who provides Daniel's voice? Fred Rogers provided the voice of Daniel Striped Tiger and ten other puppets: King Friday XIII, Queen Sara, Edgar Cooke, Corney, X the Owl, Henrietta Pussycat, Lady Elaine Fairchilde, Grandpere and his granddaughter Collette, and Donkey Hodie.
Which sports team made Fred Rogers an honorary captain? In 1993, the National Hockey League celebrated its 75th anniversary by asking its teams to choose "celebrity captains." The Pittsburgh Penguins named Fred Rogers, and he ice skated into the arena to thunderous applause when he received his award –– and a Pittsburgh Penguin sweater.
Where was Fred Rogers born? Fred Rogers was born and raised in Latrobe, PA, an industrial town about 30 miles east of Pittsburgh. (Arnold Palmer shares the same hometown!)
Why is the "Speedy Delivery" man named Mr. McFeely? Fred Brooks McFeely, was Fred Rogers' beloved maternal grandfather. In fact, Fred Rogers' full name is Fred McFeely Rogers. Grandfather McFeely was an important influence in his grandson's life and once said to him, "Freddy, I like you just the way you are!," a phrase that Fred Rogers has offered many times since. The role of Mr. McFeely on the Neighborhood series is played by David Newell.
How many episodes of MISTER ROGERS' NEIGHBORHOOD are there? Including some early black-and-white versions, almost 900 episodes have been produced.
What famous people have viewers come to know through Mister Rogers' Neighborhood? Special visitors to the "Neighborhood" over the years have included talented people from many fields: Tony Bennett, Big Bird, cellist Yo-Yo Ma, The Boys Choir of Harlem, children's author Eric Carle, folksinger Ella Jenkins, Julia Child, pianist Van Cliburn, magician David Copperfield, marine biologist Sylvia Earle, Arthur Mitchell and his Dance Theatre of Harlem, actress Rita Moreno, paper sculptor Ben Gonzales, tv stars from "The Incredible Hulk" Bill Bixby and Lou Ferrigno, poet May Sarton, Steeler football wide receiver Lynn Swann, Broadway star Tommy Tune, oboist Natasha, creator and author of the ARTHUR books Marc Brown, Soviet children's television host Tatiana Vedeneeva, pianist Andre Watts, Olympic gold medalist ice skater Peggy Fleming, the Mississippi Fife and Drum Corp, classical guitarist Manuel Barrueco, Apollo XV astronaut Al Worden, potter Eva Kwong, violinist Hilary Hahn, and the performers from the off-Broadway production of STOMP!.
Check out the video below and try not to smile. We dare you.