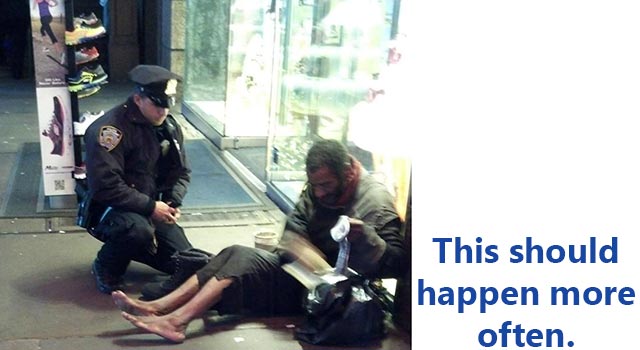 Sometimes it seems like we are all in an "everyone for themselves" kind of mentality, and being rude is a normal occurrence. What you're about to watch shows that no matter how ugly humanity can be, there is still a lot of good out there. So to all of our readers, remember what this holiday season should really bring out in you; being good to one another and showing each other peace and love.
No matter if its the holidays or not and no matter how bad things get, someone always has it worse than you. That's what Officer Larry DePrimo understood as he was walking past Times Square during his normal patrol on a cold November night.
When being interviewed for a story DePrimo said, "I had two pairs of winter socks on and my combat boots, and my feet were still cold. And I was standing on West 44th and Broadway. And I had heard somebody laughing."
That person was laughing at a homeless man who was barefoot on the freezing pavement.
DePrimo continued, "And you could just see the blisters. You know, he was just walking on the palms of his feet there. And, it was, it upset me. And, so, I went up to him and I said, I was like, 'Buddy,' I was like, 'where's your, where's your socks, where's your shoes?' He was like, 'It's OK, officer, I never had a pair of shoes.' "
So Officer DePrimo went to the nearby Skecher's store and bought the man a pair of insulated boots and socks. The total price was around what a rookie NYPD officer makes in a day, and he brought them back to the homeless man.
A picture of Officer DePrimo giving the shoes to the man was taken by a tourist from Arizona named Jennifer Foster, but DePrimo didn't even know that the picture was taken until a few days later.
DePrimo said, "I was eating dinner with my family about two nights ago. And my friend sent me a picture. And he's like, 'It's online. Everybody knows what you've done.Thousands of people have heard about it.' I was like, 'I haven't even heard about this. So, how is this possible?' "
Your challenge from your dear friends here at Bro Council is to make it a priority to help someone else today, even if you don't know them. Happy holidays everyone.
[Source - CBS News]