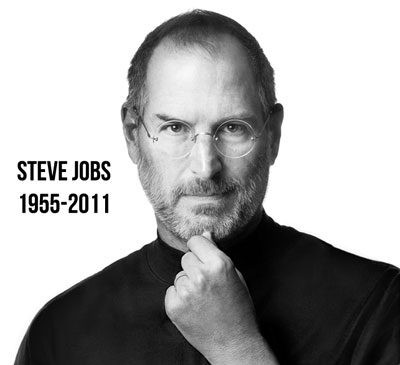 It deeply saddens us here at Bro Council to post that Steve Jobs has died. Details are still scarce, but Apple announced via their website that he has passed away at the age of 56.
"We are deeply saddened to announce that Steve Jobs passed away today," read a statement by Apple's board of directors. "Steve's brilliance, passion and energy were the source of countless innovations that enrich and improve all of our lives. The world is immeasurably better because of Steve. His greatest love was for his wife, Laurene, and his family. Our hearts go out to them and to all who were touched by his extraordinary gifts."
Apple's homepage was a full-page image of Jobs with the text, "Steve Jobs 1955-2011."
When you click on the image it brings up text saying "Apple has lost a visionary and creative genius, and the world has lost an amazing human being. Those of us who have been fortunate enough to know and work with Steve have lost a dear friend and an inspiring mentor. Steve leaves behind a company that only he could have built, and his spirit will forever be the foundation of Apple."
Steve Jobs co-founded Apple in 1976 and unleashed the world's first personal computer. And since then he has revolutionized media and music, as well as put a full court press on Microsoft's dominance in personal computing.
In 2004, he was diagnosed with pancreatic cancer, and in 2009 he received a liver transplant. Soon after, he announced that he was stepping down as CEO of Apple.
In his resignation letter he wrote: "I have always said if there ever came a day when I could no longer meet my duties and expectations as Apple's CEO, I would be the first to let you know. Unfortunately, that day has come." He was very private about his health issues, so this news is a shock to most everyone.
Steve Jobs, you will be missed. We at Bro Council pray that you're in a better place now, and we salute your efforts in the tech industry and your brilliance at marketing. The entire Bro Council staff says "Well done, Steve Jobs."