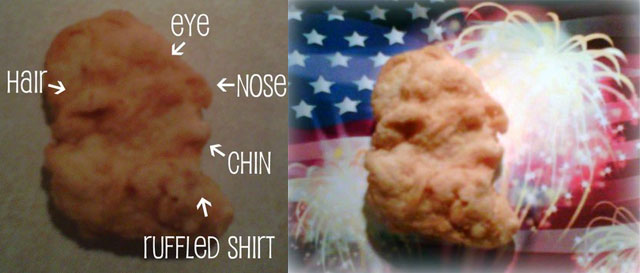 A woman in Nebraska is eBaying a chicken nugget that she says looks like George Washington. The story could pretty much end there and be awesome/ridiculous, but we'll go on a little more.
Rebekah Speight said she found the "nugget" three years ago during a "99-cent McNugget Tuesday" in Sioux City. She said she almost threw it away, but then thought she saw George Washington. "I looked down at the McNugget and just started laughing," she told the Sioux City Journal. "I saw this portrait of George Washington staring back at me."
The nugget has been in her freezer for three years, and decided to list the nugget on eBay to raise money for children at the Sioux City Family Worship Center to attend a summer camp. The church is trying to raise $15,000 to send 50 children to the camp and all "nugget" proceeds will go to the camp.
Over 50 bids have been received so far, and the price is currently over $4,000. Does this mean the recession is over?
[Auction Link - eBay]