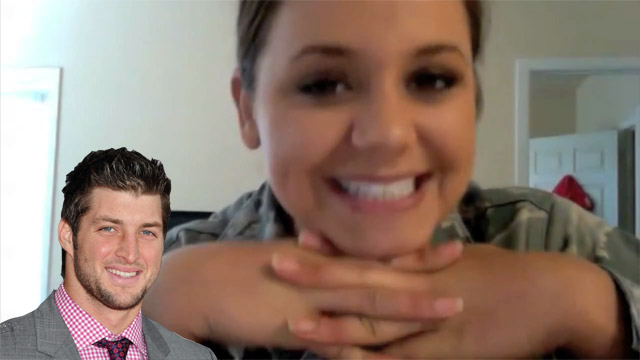 Justin Timberlake, Mila Kunis, and Kristin Cavallari all took servicemen and women to their Military Balls when they asked the celebrities to take them on YouTube. So Airman Jamie Walden decided she should give it a shot too and asked Tim Tebow to accompany her to her own ball in April in Louisiana.
The 20 year old Jamie told a TV station that Tebow is perfect because he "exhibits the same values as the military: integrity, excellence in all we do, and service before self." The video has spread pretty quick and it will be interesting to see how this plays out.
I'm all for her doing her thing and recruiting Tebow for her ball. Tebow is the man and she's a pretty girl who is serving our country. If he doesn't take her up on the offer...well, give me a call, Jamie.
I've heard rumors that Todd from our Roommates series has some ideas of his own for a video. Maybe we'll see what he does with it next Tuesday. Stay tuned!