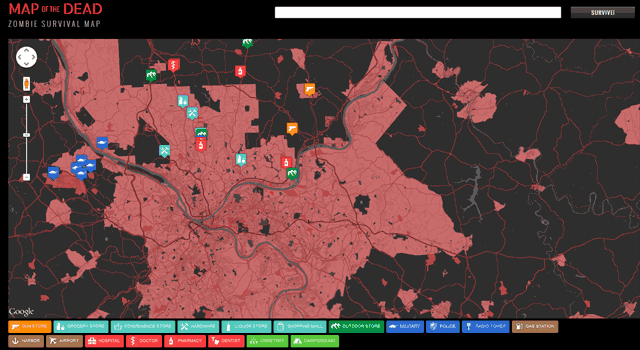 We at Bro Council love The Walking Dead. And we also love talking about what the best places and strategies are when the real zombie apocalypse strikes. But now, we have help in digital form: the Map Of The Dead from Doejo.
The video game company overlaid zombie "danger zones" and supply locations on top of Google maps. If the area is red, there's a good chance zombies will look like cattle grazing on that part of the United States. If it's dark grey? You might be in the clear.
You also get a list of helpful locations for hospitals, gun shops, military bases, grocery stores, and more. Surprisingly, there are no prisons on the map. After discussions at Bro Council HQ we decided (non-unanimously) that prisons make the best fortifications against zombie attacks.
Doejo says they'll be adding more info to the map soon, but there's only one problem: have you ever seen wireless internet during a zombie apocalypse? Print out your maps now, people. When the zombies attack there won't be any more cell phones.
Link - Map Of The Dead