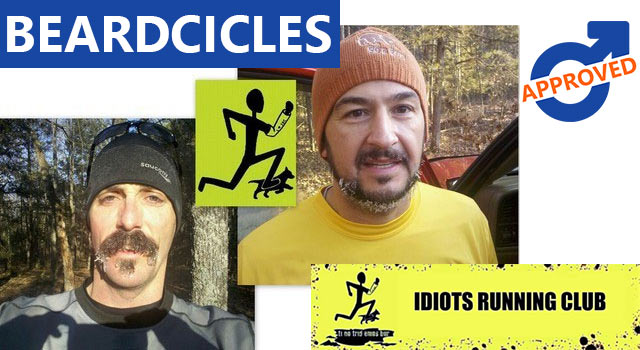 A Bro Council reader Tweeted me this recently: "Beardcicles are a real thing - this is perfect material for Bro Council." And they were right. The picture you see above combines several Bro Council Approved things:
Two beards, including one pretty amazing mustache.
Sports. Although I prefer playing football or hockey to running, that's just me. I think it's my ADD at fault, and there are a ton of people who like other sports, and these guys are serious about running. Which leads me to the third thing...
There are freaking icicles on their beards! Now that's dedication. I used to run a 5 mile loop at a local park, and I would use a drop in barometric pressure, unrest in Mexico, or any other semblance of an excuse I could find as a reason not to run. These guys were running in weather that made ice freeze into their beards. That's hardcore.
When I asked if I could post the picture on the site, they said that we could "Make fun. Point. Laugh. Just tell 'em about the Idiots Running Club." Yeah, that's right. They're part of the "Idiot's Running Club." They have a website and the cool logo you see in their picture. I'm not sure if they're stepping on a dog or a cat though (hopefully a cat).
If you want to be a part of their club, it's almost as easy as becoming a Bro Council member. All you have to do is take their oath:
I, (state your name), promise to do dumb things, have fun and laugh while running. I will always remember that I am an Idiot and never take myself or any event too seriously. I refuse to take the easy path...ever. If I "DNF" it will be because I have NOTHING left to give or I'm dead. (Now spin around 3 times and spit on the ground) Congrats. You are now officially an Idiot. Make us proud. "ti no trid emos bur"
Now, I don't know what "ti no trid emos bur" means, but it sounds pretty cool.
Thank you for confirming the existence of beardcicles, idiot runners. And no, "idiot runners" is not derogatory - it's their titles. I think. Check out their site...they are definitely Bro Council, Approved.