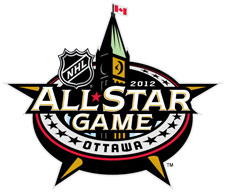 This weekend marks the 59th NHL All-Star game. You should tune in, and if you don't know why you should tune in here's a list for you.
The Top Four Reasons To Watch The NHL All-Star Game This Weekend
4. Alexander Ovechkin won't be there. Instead, he's probably working on his rapping skills. Why is this a good thing? Because Ovi is notorious for taking a crazy amount of shots - both pucks and whiskey. This will open the door for other players to be able to score. Way to be a team player, Ovechkin!
3. The skills competition is the best thing this side of the MLB's home run derby and the NBA slam dunk competition. The nice thing about the NHL skills show off is that it's not just single players going against each other, but some awesome team competition too. Plus, who doesn't want to see Zdeno Chara break his own record for hardest shot? Again.
2. Tim Thomas may fall. Again.
1. The fantasy draft. Yeah, it already happened...but it still makes for an interesting game. The players seem to like it, the fans love it, and they even have one poor guy who gets picked last every year and receives a Honda Crosstour for his embarrassment - which, could be argued, adds to the embarrassment. If you're not familiar with the format, here are the rules from the NHL website:
A coin toss will decide first pick of the draft, and the team captains (joined by their alternate captains), alternately draft the 38 remaining All-Stars through 19 rounds.  Each team will consist of three goalies, six defensemen and 12 forwards total. To ensure that the final draft picks are true selections and not simply predetermined due to position requirements, each team's three goalies must be picked by the end of Round 10 and each team's six defensemen must be picked by the conclusion of Round 15.
Awesome. Maybe if the NBA did this I would care about their All-Star game. Nahh. It's still the NBA.
So there you go. If you're home alone on Saturday night, don't get upset - just watch the skills competition. Home on Sunday too? The game is on at 4. That's good news since it won't compete with the NFL's Pro Bowl. Right? Wait...you don't watch the Pro Bowl? Maybe it's time for another list...