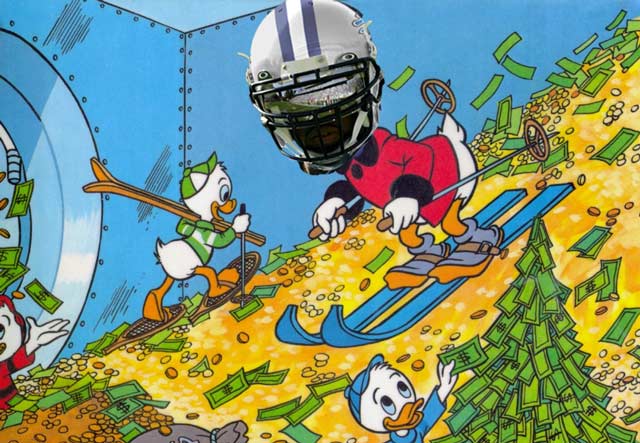 Calvin Johnson, the mammoth beast of a wide receiver known as "Megatron", has signed an eight-year deal worth up to $132 million to stay with the Detroit Lions. It's the largest contract in NFL history, and we can only assume that he is skiing on his mountain of money with his nephews as you see above (artist conception). His agent, Bus Cook, said the contract is worth $60 million guaranteed. Both the guaranteed figure and the total value of the deal are NFL records.
"I'm so comfortable here now," Johnson said at the news conference Wednesday. "At first, not at all, but being here for five years, being around these people here in Detroit, teammates and just the city—I'm just growing accustomed to it." In all fairness, $132 million would make me feel comfortable in any city. Especially Detroit. I think Calvin could just buy Detroit from the state of Michigan at this point and rename it Megatronopolis. I'd visit.
Last year Johnson caught 96 passes for a league-leading 1,681 yards and 16 touchdowns. "There are not many guys when you do a contract of this magnitude," said team president Tom Lewand. "We obviously did one years ago with Barry Sanders, and he was one of those kinds of guys, who is so special on the field, truly deserving of a contract of this size, and a guy who you have no doubt will handle all that comes with it with a great deal of skill on and off the field."
I'll agree with Lewand, Johnson is a game-changer. Now if they could just get Barry Sanders out of retirement, the Lions would be my Super Bowl pick for 2012.