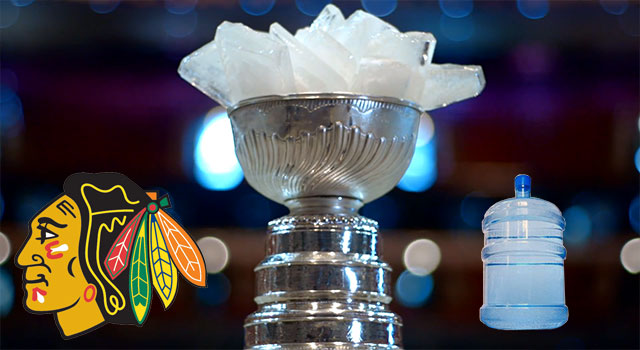 1 part oxygen, 2 parts hydrogen, and 10 parts blood, sweat, and tears - that's a tagline from the Chicago Blackhawks sale of "melted ice" from their Stanley Cup season. It sounds epic, but let's be real; either it's just marketing speak, or you're buying waste products from the Blackhawks players.
Either way, if you're a Blackhawks fan (or just really thirsty) you can now buy melted ice from the rink at the United Center. Most of the world knows this as water, but the marketing brilliance shines through here. Now, technically the ice isn't Stanley Cup ice as the Blackhawks won their championship in Boston, but it's still a pretty cool memory of the season.
The Blackhawks collected the last sheet of ice at United Center in buckets, and they are now selling commemorative vials of the stuff for charity.
Here's what the Blackhawks have to say about it:
All the amazing moments that took place on that ice literally go down the drain. This year, we decided to do something different. We were on-hand for the ice removal to document the occasion and save a few precious pieces of that magical home ice.

And we want to share it with you. We're producing an extremely limited number of souvenir packages with the actual melted ice from the United Center floor and we're selling them to raise money for Chicago Blackhawks Charities.
Here's the epic trailer for the Blackhawks water/melted ice sale:
This isn't the first time an NHL team has done this, as the Pittsburgh Penguins sold ice from the Mellon Arena for $39.99 after they moved to Consol Energy Center, and the Philadelphia Flyers did a similar stunt with drink coasters.
You can click here if you want to get on the waiting list for water, err, melted ice.