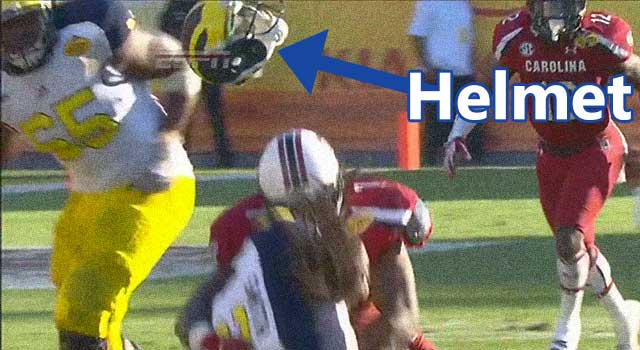 There are about 400 official college bowl games now, and most of them are pointless. From the Meineke Car Care Bowl to the Beef 'O' Brady's Bowl, the level of play in the NCAA post season has been degrading. Bro Council wants to say thank you to South Carolina Gamecocks defensive end Jadeveon Clowney for making the Outback Bowl a game that we actually cared about.
Clowney destroyed Michigan running back Vincent Smith on a tackle as No. 18 Michigan was leading No. 11 South Carolina 22-21 in the fourth quarter. Clowney laid Smith out, dislodged the ball, and shot Smith's helmet into the air. Play-by-play announcer Mike Tirico could barely contain his excitement as he yelled "What a hit! Ball is free - on the ground. South Carolina deserves to have it - and they do!"
The best part of the hit? It helped turn the tide of the game and allowed the Gamecocks to come out ahead, which meant that Outback Steakhouse now owes everyone in the US a free "Awesome Blossom" Bloomin' Onion.
If @gamecocksfb wins today - everyone in the country gets a free Bloomin Onion on 1/2!! #TeamBloominOnion #OutbackBowl twitter.com/Outback/status…

— Outback Steakhouse (@Outback) January 1, 2013
Check out the video below, and we'll see you at Outback Steakhouse later today.