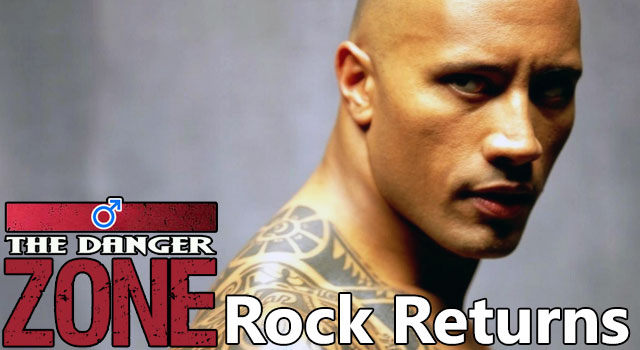 It's here.
Today is January 7, 2013, and professional wrestling is about to get a hell of a lot more interesting.
For the first time in about ten years, The Rock is coming back to the WWE, and it's for realsies. He's not back via satellite, he's not back to make cameos, he's not even back to build up to one big match at Wrestlemania. Oh no, chico, Dwayne "The Rock" Johnson is back as a regular featured performer on WWE programming for the next three months. He'll be wrestling at the Royal Rumble later this month, at the Elimination Chamber pay per view in February and at Wrestlemania 29 in early April, plus he's going to be all over Raw and even on the occasional Smackdown.
How The Rock's return is going to affect the WWE landscape is anyone's guess at this point. Nothing is set in stone right now, but the rumor going around the Internet is that he'll beat CM Punk for the title at the Rumble and then feud with John Cena in the build up to 'Mania, at which point he'll lose the belt in a rematch of last year's Wrestlemania main event. That said, there's no telling
There are rumors of other stars coming back, too, including Stone Cold Steve Austin and the Undertaker. Brock Lesnar is under contract and is expected to return in some capacity, too, and Triple H can return any time he feels like it. While it's doubtful that any of these stars will be wrestling every night, it's not outside the realm of possibility that some familiar faces start popping up on Raw, and tonight is as good a night as any for someone else to make a grand return.
In addition to the beginning of The Rock's run with the company, tonight's Raw will feature a tables, ladders and chairs match for the WWE Championship between CM Punk and newcomer Ryback, a match that probably won't wow the elitist tastes of some online wrestling fans but that should be a nonetheless cool match in which a big guy and a little guy jump off of ladders and fall through tables. These matches are always a lot of fun to watch, and it's actually surprising that that the WWE wouldn't save it for pay per view. Either way, the winner of this match will face The Rock at the Royal Rumble, so it's likely that he has some involvement in it, even if all he does is give a Rock Bottom to whoever wins.
The rest of the programming is good enough that it should hold people's attention between Rock and Punk promos. A rebuilt midcard that heavily features Daniel Bryan, arguably the best wrestler on the planet who just happens to also be one of the best talkers in the business, as well as guys like Dolph Ziggler, Damien Sandow, Sheamus, The Big Show, Antonio Cesaro and The Miz (quick aside – fans never react to The Miz and most people think he sucks, but the guy's actually pretty funny and can in fact put on a great match) means that almost every segment of the show has someone talented in it.
Don't get me wrong, though. As cool as DBry and co. are, tonight's Raw is going to be all about The Rock, CM Punk, Ryback, and the WWE Championship. For the first time in ages, the WWE feels relevant and exciting again, and it ... is ... awesome.