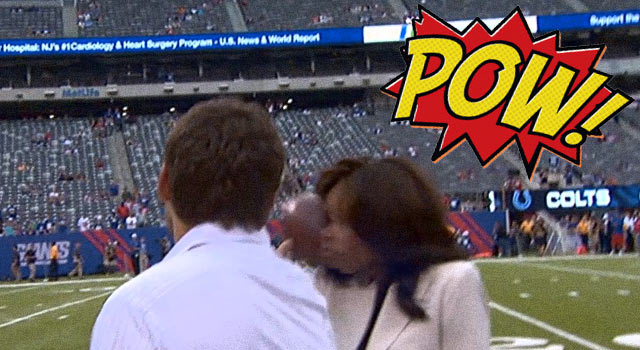 Pam Oliver is a sideline reporter Pam for the NFL on Fox and, as usual, was on the field to prepare for some interviews before the Giants-Colts game this weekend. What she didn't prepare for was the Indianapolis Colts backup quarterback, Chandler Harnish, hitting her in the face with a football. Harnish was throwing a few "out routs" near Oliver, and went just a bit outside on one of the passes.
In Harnish's defense, he is just the backup.
Oliver didn't get hurt, and she even laughed it off when they showed a replay of the hit in slow motion during the game. Of course, that led to Oliver trending on Twitter and if you do a Google search, you'll find hundreds of GIFs already.
This is a good PSA for anyone who is near an NFL sideline this upcoming season; keep alert, Chandler Harnish may be playing backup.
Check out the video below.