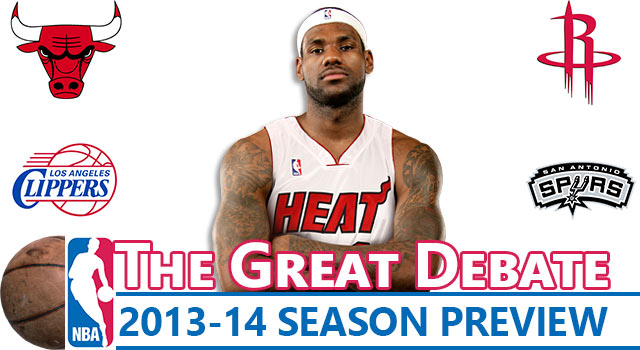 This is a recurring NBA conversation covering current events, history, and views, all from Matt Truck (@BroTruck) and Dan Quarterly (@DanQuarterly).
Matt Truck: As I pen these words, it is less than one week from tip-off of the 2013-2014 NBA season. Postseason baseball is great and the NFL is tolerable, but as the seasons change, so does the focus for the NBA fans in the global populous. I couldn't be more excited.
To kick off this season, we're each going to throw out some predictions for discussion. In the spirit of stellar post play, here are my three bold predictions for the 2013/2014 NBA season (exactly zero of which involve LeBron James):
(1) Andrew Bynum will play 50+ games, and be instrumental in leading the Cleveland Cavaliers back to the playoffs. A huge complement on the low block to Varejao will mean more sparing minutes for Tristan Thompson and Tyler Zeller. Maturation for Waiters and added help for Kyrie will make our wine and gold brethren to the East a playoff-bound club with much better offensive play (i.e. less one-on-one Kyrie isolations down the stretch night in, night out).
(2) The Houston Rockets are going to go from being my League Pass team to a national darling, winning 60+ games. This may be biased, given that I've opined on the Rockets in the past. I think Jeremy Lin's offensive efficiency with Dwight Howard in the lineup will push him to a near double-double average (13.4 points, 6 assists per game last year), as the high pick and roll will bring back flashes of Linsanity/Tyson Chandler in MSG from a few years ago. I think Chandler Parsons is going to have an absolutely massive year, and some veteran carryover from last year plus off-season signings is a big deal. The peripheral impacts of Howard on all guys (Harden included) is going to be a blast to watch.
(3) The 2012-2013 LA Lakers' 45-37 record won't be improved on by the 2013-2014 group. Like any hoops fan, I don't want to see Kobe go out this way. But I'm really unclear on his longevity if/when he returns, as well as on his productivity.
Dan Quarterly: I sure hope that you're right about the Cavs. If all goes well, I think they could be a five or six seed. But in all honesty, a 35 win season wouldn't surprise me either. You know who another young team in the East is to look out for? The Wizards.
Speaking of which...
(1) John Wall and Bradley Beal will combine to average 42 points per game, 17 assists per game, and 14 rebounds per game. You know I'm a Cavs guy and I want to say that Kyrie and Dion Waiters represent the NBA's best young backcourt, but I just can't talk myself into it. The Wall-Beal combo during the second half of last season was ridiculously good for two guys with the combined age of 40 on a dysfunctional team. When it's all said an done, one of these two will be an All-Star, the other will be an All-Star snub, and the Wizards will be comfortably in the playoffs. The only thing that could prevent this is a complacent John Wall post-payday. But I can't see it.
(2) Everybody will forget about the fact that Derrick Rose sat out 2012-13. First of all, I think it's a joke that anybody questions Derrick Rose's competitive nature and/or commitment for not coming back for last summer's playoffs. Rose is an athlete, Rose is the heartbeat of Chicago, but above all else, Rose is a competitor. If he was able to go and be effective, he would have. Anyway - once DR comes back, averages 24 points per game, and leads the Bulls to 60+ wins, people will stop questioning the kid and just appreciate his transcendent athleticism.
(3) The Pacers and Warriors will both play in a Game 7 in their respective conference finals. I know that this one is pretty out there, but I love what these two teams did. Beyond their moves, I love the fact that players are staying home (Paul George and Steph Curry) and taking pride in the city they labor for. The East will be Heat v Pacers (again) and the West will be Thunder v Warriors (once Russ Westbrook is back). Will Indiana and Golden State be the 2014 NBA Finals? Probably not, but it wouldn't surprise me by any stretch.
(4) (Ya... I'm doing it) Paul George will win the 2013-14 MVP. He's not the league's best player by any stretch, but his valuable is undeniable. He took a six man team within one game of the finals. PGMVP.

MT: Only you can break the rules of the article before the season even starts. NBA refs never call anything but defensive 3 seconds anyway, so I suppose I'll let it slide too.
I'd like to get back to Derrick Rose a bit. I know this may sound crazy, but all it took was the AdiZero commercials ("If you took away...what would you have left?") to remind me of (a) Rose's explosion; and (b) How glad I am to have him back. I wish I could go back in time and shake early 2012/2013 Matt Truck and remind him that Rose was the only MVP not named "LeBron James" since the 2007-2008 NBA season (for a reminder of how long ago that was, PJ Brown was getting meaningful minutes in the NBA Finals, Brett Favre was a New York Jet, no one had yet heard of Justin Bieber), so any conversation about the Eastern Conference not involving Chicago is flawed from the start. That Chicago team in last year's playoffs was a patchwork of assets, and a healthy Noah, Rose, Deng, Butler, and Boozer combo is a force to be reckoned with.
I love that before the pre-season is over, we already have jabs going back and forth between Miami/Brooklyn, Miami/Chicago, Chicago/Indiana, etc. I feel as though this is going to be an unbelievable season.
I know I said before that history suggests it'll be hard for Miami to get to the Finals four consecutive years, but here goes my pre-season predictions -- top 4 in each conference (finishing record), conference finals, NBA Finals, and key awards.
East:
(1) Miami Heat - Unless I missed some news stories, LeBron's still the best player in the league during the early-ish part of his prime, Bosh is in a contract year of sorts, and the load on Wade is lessened by the additions of some scoring options (Beasley, primarily). Front-line help in Greg Oden will be huge, if he stays healthy. But even if he doesn't, the addition of more bench talent still has this team as the class of the NBA to me.
(2) Chicago Bulls - I think it's a lock for them here right now, though I will say that the gap between them and Miami could narrow if a deal for Kevin Love surfaces (as alluded to by Grantland's Bill Simmons and Zach Lowe).
(3) Brooklyn Nets - Lots of pieces added to current assets, and the presence of Kevin Garnett/Paul Pierce are going to make such a difference in that locker room.
(4) Indiana Pacers - Somebody has to regress. I know these are your boys, and you know that I love the Chris Copeland acquisition to the bench, but I question whether last year was Paul George's "ceiling" for the near-term (not that he can't improve past it, but just that he may plateau or come back down to earth slightly in the interim). Hibbert's "free reign" at the center spot really only surfaced in the Miami series, and Danny Granger's return brings more questions than answers, as I'm not sure that he and George won't have a bit of a power struggle.
West:
(1) LA Clippers - Doc will have a meaningful impact on the frontline players, and a Paul/Rivers on/off-court coaching duo will be relevant. Talent acquisition on the wings will have to compensate for a still questionable front-line in tight games.
(2) Houston Rockets - This team was special last year, and a healthy Dwight with something to prove HAS to be relevant here. If Houston was an offensive explosion last year with perimeter scoring only, I'm excited about their prospects. (*I know I'm totally biased here, but my ranking stands).
(3) Oklahoma City Thunder - The absence of Westbrook early in the season will matter down the stretch, as I think 1-3 are pretty tight.
(4) San Antonio Spurs - Still ticking, but slowing down. I think we're heading for a round 1 matchup with the Warriors.
East Finals - Miami v. Chicago (don't plan to miss a second)
West Finals - Clippers v. Rockets (only because I'll take the Howard/Asik frontline vs. Perkins/Ibaka, and assuming that Asik isn't dealt mid-year from a potential contender)
NBA Finals - Clippers vs. Miami - Miami in 6
Key Awards:
MVP - LeBron James (Runner up: Chris Paul)
Coach of the Year - Doc Rivers (Runner up: Kevin McHale)
Most Improved Player - Jimmy Butler (Runner up: Chandler Parsons)
Rookie of the Year - Kentavious Caldwell-Pope (if only for the "KCP" chant)
Defensive Player of the Year - Dwight Howard
Sixth Man of the Year - Jamal Crawford
DQ: Here are my (extremely flawed, I'm sure [Please don't tell anybody I picked the Lakers to win it all last year and Rajon Rondo to win MVP]) picks.
East:
(1) Chicago Bulls - Last season said so little, but so much about some teams - the Bulls perhaps being the most notable. They were not only depleted, but those who did suit up were banged up, playing through serious injury, or logging 45 minutes a night. They are up for every home game and their coach won't let them take a night off on the road. 65+ wins for Chicago. As for Derrick Rose... I'll get back to him later.
(2) Miami Heat - Is there a better team in basketball? Not when they are clicking. I don't have them as the top seed in the East because unless they go on a historic winning streak (see 2012-13) they can lose some gimmes. What makes them the best in the summer though is a combination of the best player on the planet and two other superstars who can lay an egg in games 1 and 2 of any series, but go for 25, ignite a crowd, and gather an offensive rebound as the only big on the floor and dish it to Ray Allen for one of the three biggest shots in NBA history. The Heat are good. Really good.
(3) Brooklyn Nets - This is the one team that I feel like we could be wrong on. We shouldn't be, but we could be. KG is a culture changer, Pierce is a competitor, Deron Williams started to look like Deron Williams again late last season and now Joe Johnson is your fourth best player. (Am I naive to think that Detroit could slide into the top four?)
(4) Indiana Pacers - I guess I'll stick Detroit in the five spot. The Pacers had "the look" last summer. What held them back, in my opinion, is they didn't have "the depth" at all. The self-proclaimed NBA purist/historian in me thinks that 2013-14 is going to be big in Indianapolis.
West:
(1) Los Angeles Clippers - Doc makes all the difference. It could be argued that CP3 is the second best player in the Association. I'm not sold on their bigs as anything more than high-risers, but Russ Westbrook is out for a while and the Spurs are old (I think...).
(2) Oklahoma City Thunder - I've been saying it since they made the run and lost to the Mavs in '11: This is Russell Westbrook's team. Kevin Durant is better than Westbrook, but Russ is the alpha dog. They'll take their lumps while Russ recoups. And then he'll come back. And they'll win 60 games.
(3) San Antonio Spurs - Just think, if Manu Ginobili hits that free throw...
(4) Golden State Warriors - Popular belief is Dwight Howard was the biggest off-season move. Andre Iguodala thinks other wise, and so do I. I'm all in on Iggy and the Warriors. Still not as good as the three teams above them, but with a combination of hot shooting, youth, depth, and home court, they are primed for a post-season run.
East Finals: Miami v. Indiana (It's only right)
West Finals: San Antonio v. Golden State (The Warriors roster as a whole is superior to that of LAC and OKC - and I'm going back on my further prediction of OKC in the Conference Finals)
NBA Finals: San Antonio v. Indiana - I'm not picking a winner
MVP - Derrick Rose (Runner up: Paul George and then LeBron James)
Coach of the Year - Tom Thibedeau (Runner up: Doc Rivers)
Most Improved Player - Anthony Davis (Runner up: Tristan Thompson)
Rookie of the Year - Victor Olidipo (he's going to be a fantasy stud)
Defensive Player of the Year - Andre Iguodala (Runner up: Dwight Howard)
Sixth Man of the Year - Jarret Jack (so what, I'm biased)
I said earlier, last summer you saw so much about the Pacers. They had no business at all being in the position that they were. Next to Portland, THEY HAD THE LEAGUES WORST BENCH!!!! And they don't even have a superstar - well, they didn't. But they are tough. And their coach is tough. And they don't back down. Most importantly, they tasted and fell short so now they are hungry. Danny Granger is healthy and is not going to be asked to do a lot at all. Just score, Danny.
They added Luis Scola, Chris Copeland, and CJ Watson. Roy Hibbert found himself. I understand that there is nothing glamorous about this team, but there is absolutely nothing not to like. I know I went back on my Paul George MVP pick earlier in the column, but that is due solely to stat lines and highlights. But the value that Paul George adds to his roster, franchise and city cannot be duplicated. Indiana was an absolutely dead basketball city since the Malace at the Palace, and then PG took over.
Boring teams win sometimes, as I suspect Indiana to. You know who else is boring? The Spurs. You know who else is never satisfied? The Spurs. You know who will see the boring, hungry Pacers in the Finals? The boring, hungry Spurs.

I. Love. This. Game.
MT: I got pumped up reading this. To conclude, as we open the "new year" (NBA calendar matters to me, at least), I'd like to set several resolutions:
(1) TRY to watch at least one full game of every squad, from title contender to Andrew Wiggins sweepstakes participant. (First, NBA League Pass is the best, and big props to Mrs. Truck being down with the purchase; Second, I'm really not looking forward to Bobcats @ Sixers on Wednesday, January 15, 2014.)
(2) Spend more time understanding analytics and the application to lineups (probably means studying the Rockets (big surprise) and Raptors at least)
(3) Test my theory of the importance of big play at both ends even as guards dominate the headlines (steady diet of Grizzlies)
(4) Find a new league pass team that's out of consensus (read: Warriors) -- my guess is that it could be Detroit or the Mavs (an old favorite)
(5) Not mention the summer of 2014 once (beyond this).
DQ: My resolutions are simple. I can't really devote to a "League Pass Team" due to my devotion to Cleveland, but I will devote to League Pass. It has been agreed upon and established by my future wife (November 9th) and I that not only will cable be our first edition to the family (she has lived on her own for two years without any cable, but League Pass is coming to our household).

With that:
(1) I promise to watch AT LEAST TWO full game of every team in the league. I'll see each team at least once against the Cavs and then I plan on watching at least one other game of each franchise against a non-Cleveland team.
(2) Watch and appreciate Tim Duncan. He's back again. He is getting older, but his game is still at a high level. I don't know how many more years he could be doing this or what else he wants to accomplish, but while he is here, I want to enjoy him. Plus I guarantee that missed runner in game 7 has eaten him up every day of the offseason.
See you October 29th.