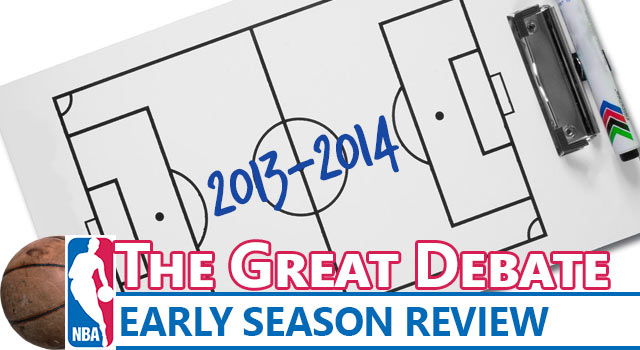 This is a recurring NBA conversation covering current events, history, and views, all from Matt Truck (@BroTruck) and Dan Quarterly (@DanQuarterly).
With Dan Quarterly out on vacation, you're left at the whims of my topics of choice this week for all things NBA.
I keep telling myself to remember "it's early". That being said, we're only a few short weeks into the 2013-2014 NBA season, but some striking things have emerged from where I'm sitting.
I'll start in the East.
Pre-season, I had marked the Pacers for regression this year. So far, not so good on that front, as Indiana has come out of the gates with a 7-0 record, surrendering a league low 85.3 points per game and an NBA best +9.6 point differential per game. My early question with this team is whether or not they have another "gear"? As a reminder, two years ago the Bulls were the best team in the East, only to fall short to Miami in the eastern conference playoffs. I had said then that the Bulls "are what they are", meaning that they would beat up on teams in the regular season, but when the contenders upped their game in the playoffs they didn't have the extra "oomph" to get the job done. I wonder the same thing for the Pacers. Don't get me wrong: the bench is undoubtedly better and Paul George looks like he has picked up right where he left off in the ECF last season. But my question comes down to whether or not this team can beat two out of three of Chicago/Brooklyn/Miami in back-to-back 7 game series to come out of the East. I think Pacers fans have to be hoping for Chicago, which is a dangerous alternative if Rose gets his sea legs back.
Speaking of Chicago, it's interesting how the teams in the East have so quickly "passed them by" in terms of creating matchup problems. Several announcers of games thus far have made the great point that Chicago can't force any team they play against to "stay big", as they lack a dominant post-scorer. The problem here is that Indiana is a matchup-nightmare for them, as are the Nets. As a result, the team they match up best with is Miami, but I agree with Charles Barkley's view that you can't beat Miami on the perimeter. It's a tough game of rock-paper-scissors that doesn't look like it will end well.
They may be 2-4, but I think Brooklyn is impressive. Their starting five is loaded, and we have to give these guys time to integrate. It's a group of veterans, and I think that they'll figure it out. Maybe I'm overrating them, but maybe I also just want to watch a playoff series on a court that looks straight out of NBA Jam. I'll leave that up to the readers to decide.
That leaves Miami. Heat fans shouldn't be too concerned: the talent on the roster has improved year-in, and year-out since 2010, and your three-time reigning Eastern Conference champs have a gear in the playoffs that we haven't seen the other contenders capable of hitting. Early season lackadaisical effort some nights isn't overly concerning. And the last time I checked, they still have LeBron James. While they may not duplicate 66-16 this year, I'll bet on him to win 4 out of 7 against any of these three ECF powers, and it looks like Miami is just going to make sure they get to the playoffs. Interestingly, I think that Miami and Brooklyn are the only two teams who don't need to have home court in a series to win it.
A few other passing notes for the conference:
Alonzo Gee of the Cleveland Cavaliers could be a rotation player for any deep-run playoff team in the NBA. I've thought this for years, and wanted to put pen to paper on it.
Detroit's alternate Motor City jerseys are unbelievably cool.
I kind of enjoy watching the Bobcats' backcourt of Gerald Henderson/Kemba Walker.

Let's turn to the West.
For a brief summary, here's what we've learned:
The Clippers' offense is good, but they aren't a good defensive club as of yet
OKC is still going to win a lot of games
Steph Curry didn't forget how to shoot the basketball
Dan will stop writing with me if I don't at least mention San Antonio. The Spurs are still very good...moving on.
I'm going to focus my attention on the Rockets, but then again my being a fan of the team shouldn't make that a surprise. Watching them so far this season has swung me from feelings of elation to utter despondency, and I have no clue what we're going to get from them night-to-night. While at times they have looked impressive on the offensive and defensive end, the desire of the perimeter players to get out and run has lead repeated lapses defensively that are serious concerns.
One nagging question I've had bouncing around my thoughts is this: "Why did Dwight Howard sign in Houston?" Allow me to explain. Going back a few years, when Howard's Magic team was a significant power in the East, the team fundamentally ran through D12, and he was surrounded by great perimeter shooters. The team moved the ball well, and their offense was very effective. It has been well documented and discussed elsewhere that Dwight's offensive skills on the low block are not entirely polished (this is less an indictment of Dwight Howard, and more of a current "state of the game", where the art of post play isn't embraced across the majority of NBA franchises).
Nevertheless, Dwight's body language in the majority of the games I've watched has been filled with frustration at a lack of touches on the post. Anyone who watches a Rockets game this year or last should know that Harden is a ball-dominant guard, and when he's going it's a thing of beauty. When he's not, the collective team slows down while James tries to get on track, and there's a lot of standing around and watching by the other four guys on the court. Dwight would obviously have known this, and the failed LA Lakers stint with another ball dominant guard created serious rifts. I'm of the opinion that this team can work, and that it will, but their defensive lapses have to get better, and the offense needs to have more ball movement, as it is ripe with shooting talent (Lin, Parsons, Harden, Garcia, Casspi, Montejunas). Ironically, this squad is actually quite similar to the Orlando teams of old, except for the utterly poor ball movement at times. If things don't change, this experiment could turn out to be failure....
...but remember, it's early. At least that's what I keep telling myself.