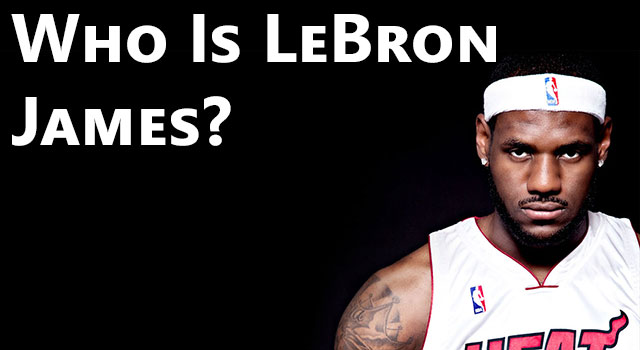 LeBron James is the most interesting person in sports today. Period. Few, if any, athletes raise such a strong reaction from the most casual observer or non-observer of a sport. I can't tell you the number of times that the only radio coverage I have heard on local sports talk as being "We hate the NBA, but we like LeBron even less." I have had more LeBron conversations in sports discussions with friends than anyone else (one of which in high school resulted in a friend and I not speaking for several hours – this is what being a guy is all about!) And I don't even live in an NBA town.
If you have been living under a rock for two years, then take a trip back with me to July 2010, when LeBron went from Cleveland's (more accurately, Akron's) hometown hero, to being a pariah that the nation loved to hate as result of his leaving Cleveland via a one hour ESPN special. Admittedly, the method was less than flattering, but the decision is done. I have always contended that LBJ could have engraved an apology on cement outside the arena describing his imminent exit, and fans would have reacted with the same vitriol. It's sports, and this is what fans do. A year later, the struggles in the fourth quarter during the NBA Finals became the new topic of conversation, citing how his utter lack of "clutch-ness" somehow makes him lesser of an incredible player.
Now here we are, nearly two years from "The Decision", and LeBron has been stellar in the playoffs thus far. But it is what happens in the next month that will define the LeBron narrative over the next offseason. What is refreshing to me is the remarkable stability with which LeBron has conducted his business this season, still competing and being the best player in the league every night. Another thing that is refreshing is one major change seen at the start of the playoffs: @KingJames has stopped Tweeting. In today's social media-driven world, this is a small step of maturity that shows me that LeBron is singularly focused on winning that trophy this season – not brand promotion, not self-adulation, but winning.
Like it or not, LeBron James is probably the most physically gifted athlete alive today, and that the game of basketball has ever seen. The sport is better because of him, and the NBA playoffs are simply better with him in it. Sorry Pacers fans, but you know this is true.
I do think that Miami will win the title this year, and I think that LeBron will be the Finals MVP. But ironically, the narrative for the rest of the post-season, will center around some aspect of ineptitude, some flaw, or some reason to believe that the Heat win in spite of him. I hope it does. And I hope he hears it, takes it, and comes back with a fury again next season.
This leaves me with a question: if LeBron's not the most interesting person in sports, then why are you still reading this?