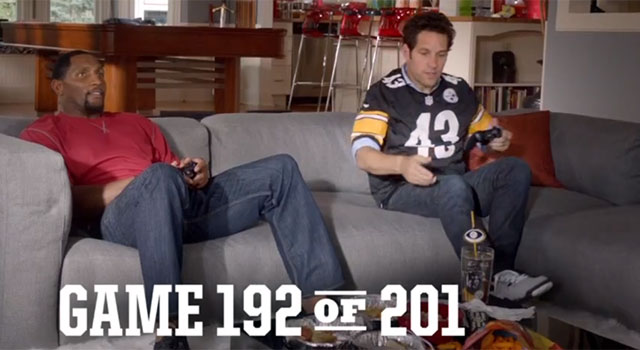 If you haven't seen them, the Madden '13 television commercials have been featuring a series of games between Paul Rudd, and Ray Lewis. If you don't know who they are, Rudd is the hilarious guy from I Love You, Man and Anchorman, and Ray Lewis is a linebacker, and future Hall of Famer, for the Baltimore Ravens. If you don't know who the Baltimore Ravens are, go read something else because you won't find this video funny.
Rudd and Lewis have been playing a series of games against each other in the commercials, and the trash talking has been upped in each one. In the newest episode, Rudd dons a Pittsburgh Steelers jersey to taunt Lewis while singing Wiz Khalifa's Black and Yellow.
The Steelers-Ravens rivalry is one of the great rivalries in all of sports and it's great to see that Lewis really does hate the Pittsburgh Steelers off the field (I'm sure the Steelers feel the same way about Lewis). Here's to real rivalries! Enough of players being "nice" to each other off the field, Steelers-Ravens is a throwback to the 70's style of rivalries and we like it.
EA Sports is set to drop Madden '13 on August 28th. The commercial is below.