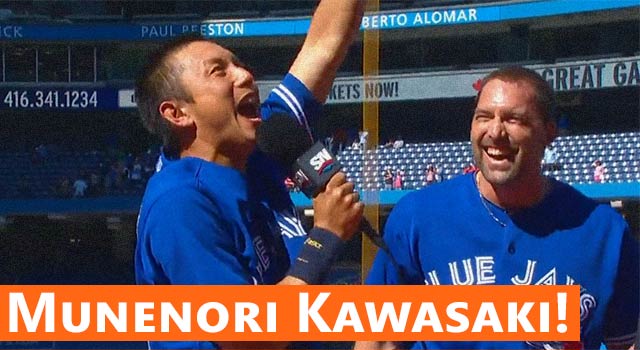 Toronto Blue Jays shortstop Munenori Kawasaki has been filling in for Jose Reyes after he suffered a left ankle sprain. Although Kawasaki hasn't been a huge help on offense, teammates and fans love the style he brings to the game. This weekend, everyone other baseball fan was able to see why the city of Toronto loves him.
Toronto was down 5-4 and Kawasaki made it to the plate with two outs and two men on base. He hit a pitch to the outfield that went for a double to win the game. After his walk-off double he gave an amazing post-game interview after being brought back to the field by Mark DeRosa, who scored the winning run.
Kawasaki proceded to answer a "What do you have to say for yourself?" question with this gem: "Thank you very much! My name is Munenori Kawasaki! I am from Japan. I'm Japanese!" He then looked in a phrase book and added ,"My teammates gave me an opportunity so I wanted to do something about it."
And then he got a pie in the face. And some Gatorade.
This has to be the best interview after a win ever. We just need a "you have no marbles" comment and this would be the best video ever. Check it out below.