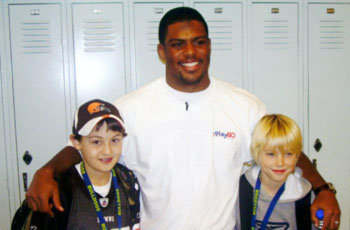 Yes...you read that right. Passing up the NFL for college.
Now this is a cool story. Jason Wright was a running back who was undrafted out of Northwestern and spent his NFL career with Atlanta, Cleveland, and finally in Arizona. He's now an ex-NFL player because he turned down a two year contract worth more than $2 million.
He turned it down for a few reasons, and as you read the article you'll see that his wife had a lot to do with it, but he cites family, God, and college in his decision. That's pretty cool.
Jason now wants to finish his education and eventually open up a charter school for students. He and his wife have already been helping several young women who come from underprivileged backgrounds, and this is the next step for him.
Well done, Jason. In an era where people can get so greedy and focused on money you're taking a different approach. You're definitely Bro Council, Approved.
Link: Running Back Passes Up Riches (via Yahoo)