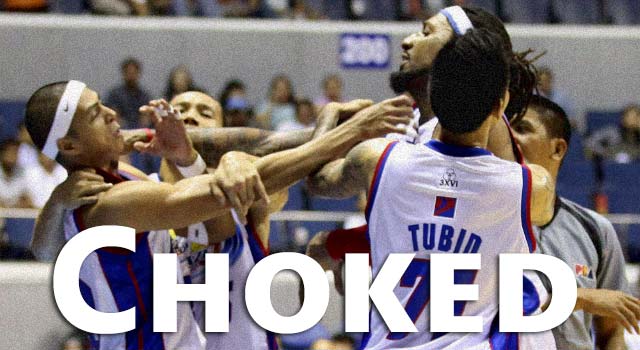 Another day, another country that Renaldo Balkman needs to continue his basketball career in. Balkman, a former NBA player who was drafted by the New York Knicks in the first round, has apparently been playing in the Philippine Basketball League since he left the NBA.
Last week, he showcased one of the reasons he is no longer playing in the USA when he choked a teammate who was trying to stop him from attempting to fight a referee.
Because of this, he was banned from the league. Here's what Reuters had to say:
The former New York Knicks and Denver Nuggets player has also been slapped with a fine of 250,000 Philippine pesos ($6,100) over the incident, Philippine Basketball Association commissioner Chito Salud said in a statement on Monday.

Balkman, who was playing for the Petron Blaze Boosters against the Philippines-based Alaska Aces, assaulted Arwind Santos while his team mate tried to stop him from venting his frustration at a referee's decision.

Salud said he took into consideration Balkman's past record as a player, which included a head-butting incident during a FIBA-Americas game between his Puerto Rico side and Venezuela

"I also took into consideration Balkman's evident disregard for local and the host country's sensibilities highlighted by his choking act on-court in full public view of his own team mate who was trying to pacify him," Salud said.
Oh well, there's always the North Korean league now that Ambassador Dennis Rodman has re-opened those doors. Just don't try to choke someone there, they may not be as forgiving.
Check out the video of the game (and choke) between the Petron Blaze Boosters and the Alaska Aces below.