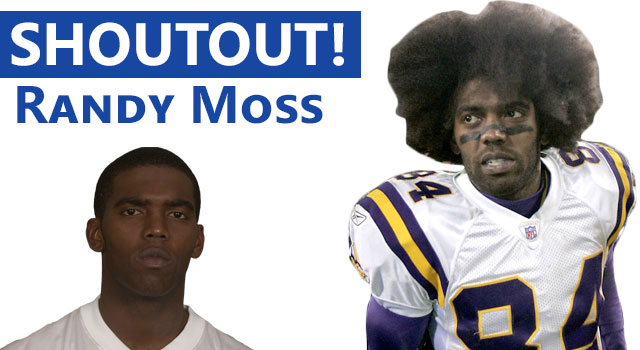 Every now and then, we like to give shoutouts to people who have just plain entertained us over the years. Today's recipient of a Bro Council Shoutout is none other than:
Randy Moss
What is there to say about Randy Moss? The man was a beast on the field, a highlight reel off of it, and always up for some great banter with reporters. We're not sure if he'll be back with the 49ers in 2013, but we are hoping for a return.
In the meantime, here are some of our favorite Randy Moss moments.
First NFL game: 4 catches, 95 yards, 2 touchdowns - impressive numbers for a rookie, and the guy came from Marshall.
First NFL mooning: January 2005 in Green Bay - Joe Buck was appalled
First time punking out Darrelle Revis: After Revis talked trash for an entire week, Moss caught a one handed pass over top of him and Revis injured his hamstring on the same play and was out for 3 weeks.
First time interviewing himself: After being fined from the NFL for not answering reporters, he decided to interview himself for the rest of the season. Love him or hate him you have to appreciate his humor.
Thank you Randy Moss for your humor, skill, and the ability to upset everyone around you, especially Joe Buck. And if you've never seen it before, check out the awesome remix of some of Randy's best moments below....One Clap.