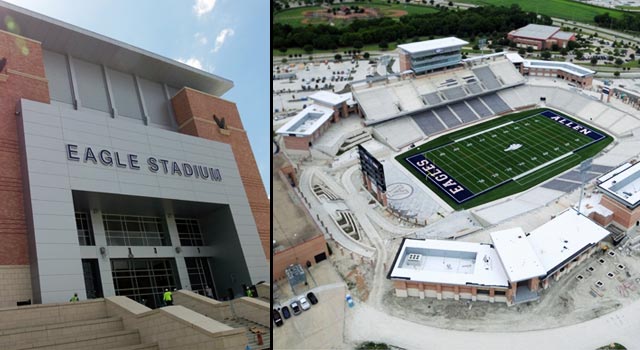 Apparently Allen, TX is the home to more than just Terrell Owens failed attempt at resurrecting his career, it's also the home of a new $60 million stadium for its high school football team.
Yep, $60 million.
The stadium is an 18,000-seat facility and will be home to the powerhouse Allen Eagles football team. It has a huge weight room, an HD Scoreboard, field turf, and yes...private boxes. The great part about all of this is that it needed to be approved by the voters in Allen, and 63 percent of them voted for the bond to get this funded. They really love their high school football in Texas.
They also have an indoor golf practice facility in the stadium, and a practice facility for their wrestlers as well.
Check out a picture of the weight room and lockers below. I think this is nicer than what the Bengals have in Cincinnati.