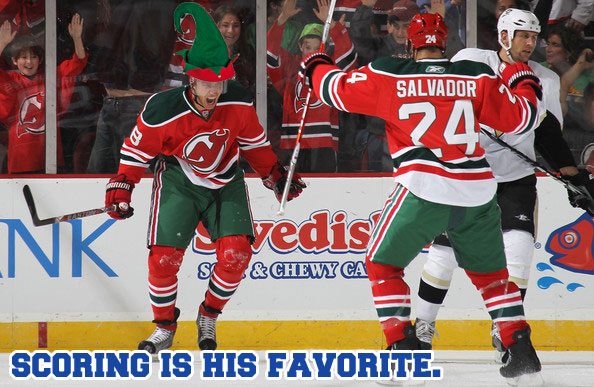 I hope everyone had a (sham)rockin' St. Patrick's Day; because I certainly did not. Instead of waking up at 9am as planned to get raucous at a parade with my cruise-ship singer friend Brittany, and then go to a street party in the sunshine with Boyfriend, I wound up with food poisoning, a fever and spending all of St. Patrick's Day inside.
On the upside, at least the Pittsburgh Penguins were "playing" the New Jersey Devils. I say "playing" because the Devils clearly left their games at home. They also had absolutely no idea it was St. Patrick's Day and decided to dress like Christmas elves working the door at a Macy's day-after Thanksgiving sale. The only thing missing was candy cane striped hockey sticks, but maybe Santa can give them some hugs after the Pens spanked their green butts 5-2 this afternoon.
Nice outfits, Devils.
[Source, and more pictures - zimbio.com]