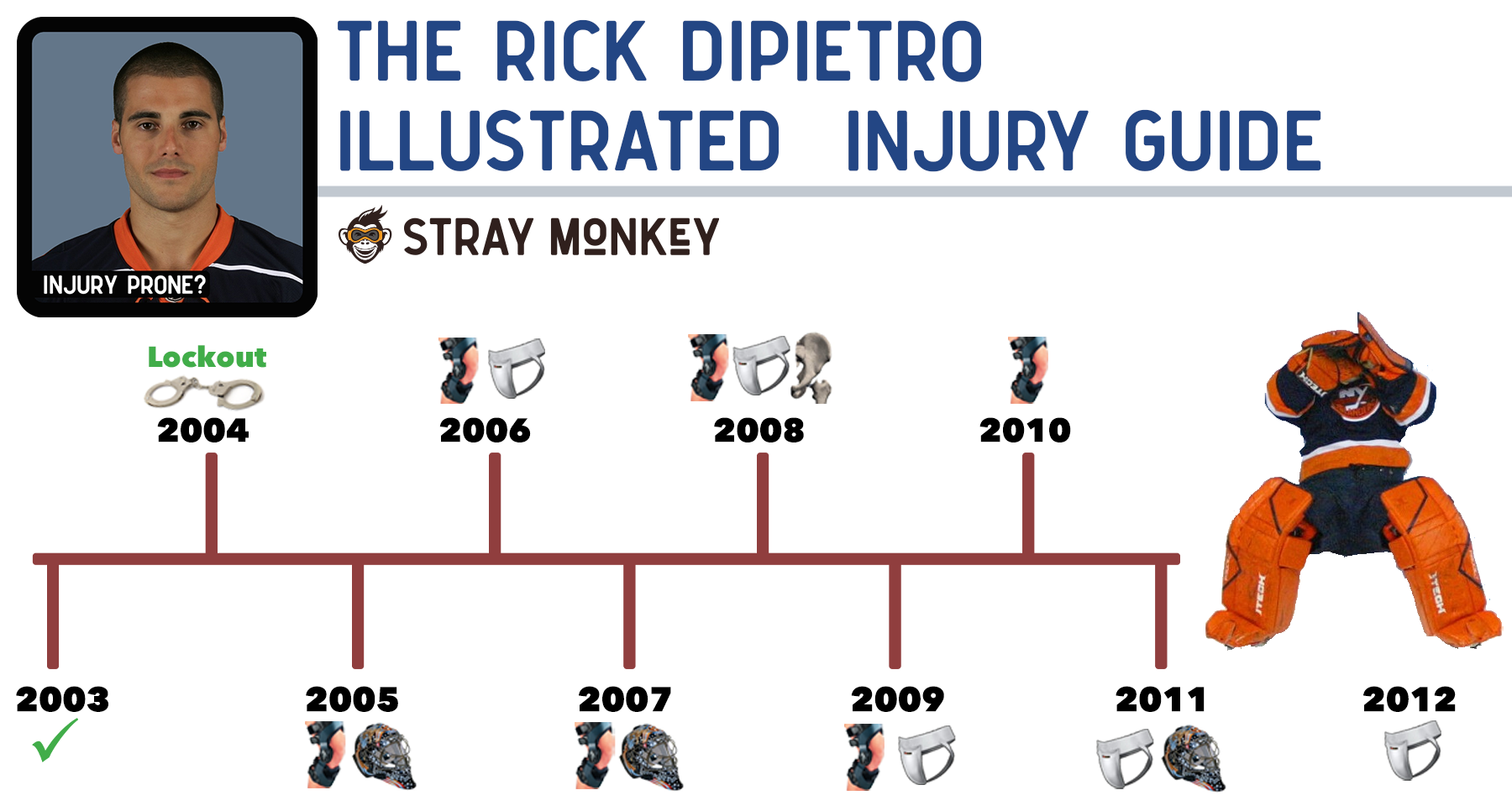 (11/2012 Update: This article was originally posted in the spring of 2012, and now Rick DiPietro is playing in Germany during the NHL lockout. According to deadspin.com this chart needs to be updated as Rick has injured his groin yet again.)
Rick DiPietro is always injured. This year he got sent home from a road practice after he was struck with another lower-body injury. He wasn't even off injured reserve, but that didn't stop old Rick from getting hurt one more time.
On September 12, 2006, DiPietro signed a 15-year, $67.5 million contract with the New York Islanders. Since then, he has played in 172 of a possible 467 games with the team. As you can see from the image above, he's had a lot of injuries. Let's break it down by year, and games played for DiPietro:
| | |
| --- | --- |
| Injury | Games Played |
| 2003: First full season - no major injuries. |  50 |
| 2004: NHL Lockout - no season. |  0 |
| 2005: Concussion, knee |  63 |
| 2006: Knee, groin |  62 |
| 2007: Neck, headaches, knee |  63 |
| 2008: Knee, hip surgery, lower body injury/groin |  5 |
| 2009: Groin, knee |  8 |
| 2010: Knee |  26 |
| 2011: Multiple groin injuries, facial injury, concussion |  8 |
So he's shooting about a 37% show rate for the Islanders games, and he still attempted to fight Brent Johnson of the Pittsburgh Penguins last season. Click here for the slow motion version of Johnson's one-punch knockout of DiPietro. After you are done watching the video, ask yourself why an injury prone goalie would attempt to fight another goalie. Maybe it's the concussions taking their toll?
Who knows, maybe he'll be healthy after this latest setback. I'll say this much, despite us and a lot of other people poking fun at his injury history, the dude is a beast goalie when he's healthy. And oh yeah, he also has a beautiful wife and $67.5 million in the bank. Well done, Rick. Here's to a healthy 2012 2013 and beyond. Maybe we should add a DiPietro injury to the list of things we don't want to see in 2013...