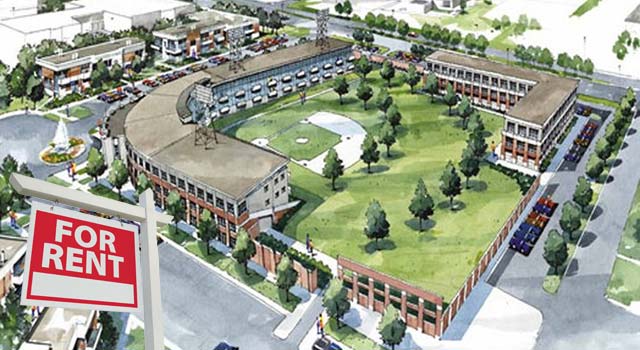 Have you ever wanted to stay in a ballpark after the game was over? Well, now you can.
The apartment complex at the former Bush Stadium in Indianapolis (not to be confused with Busch Stadium) is almost finished. A company called Core Redevelopment specializes in saving historic structure, and took on the task to turn the old baseball stadium into a a dwelling that makes all baseball fans jealous.
The project is the first of it's kind in the United States, and since the courtyard still looks like a baseball field you have some interesting views:
The developers did retain some especially intriguing parts of the facility. The former owner's office – complete with a fireplace and restored hardwood floors – is being incorporated into a one of the apartments. The baseball diamond – once made of dirt – will be made of colored concrete and surrounded by grass. "If you're in a unit looking down," Cox says, "it still looks like a baseball field." The effect makes the the apartments feel like luxury boxes.

Despite the high-profile status of the project, rents aren't particularly expensive: a large 1,600 square-foot studio goes for around $1,300 per month, and a smaller 580 square-foot, one-bedroom costs about $599 (the company's already leased 35 units).
Bush Stadium was home to minor-league and Negro League baseball teams from 1931-1996 and then became a midget race track after baseball was finished. It even had a small stint as a junkyard, but will soon be restored to glory.
Check out the video concept of the apartments below, and let us know if you decide to move in.
[Via Governing.com]