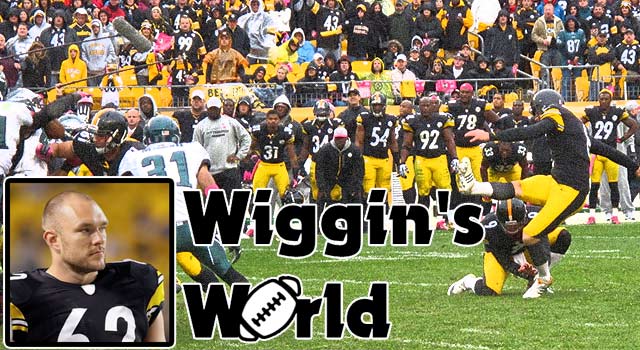 Welcome to the first installment of 'Wiggin's World'...yeah, that's what I'll call it. I'm writing to share with you insights on all things NFL, from the perspective of a guy who started 100 games in the NFL. You may not always agree with what I have to say in this column, but I'd venture to say that I understand the game and how things work in this league more so than a lot of armchair quarterbacks whose columns you read.
I will also try to navigate a player's perspective on certain situations. A lot of times it is in a player's best interest to keep his mouth shut because it is in the best interest of his team. Hopefully I will be able to shed some light from behind the mask, light that often goes undetected, or gets deflected by ignorant media and fans.
I may focus on one heartfelt topic, or jump around and address tidbits from around the league in my columns, but stay with me...
Now that I am living in Pittsburgh, I first need to address the Steelers. One thing that always stands out about the Steelers teams in comparison to the rest of the league is their propensity for being 'in' every game. If you follow them over the last decade, especially, you will notice that they rarely get blown out, and they rarely blow people out. Most of the games are within 10 points of each other. I truly believe that this has something to do with the methodical, blue collar approach to the way they do things, as well as the intangibles in the Steeler locker room. There is something to be said about the continuity with the ownership, coaching staff, and core group of players that remain in tact year after year. The organization is in its 80th year of operation, and after time, a system and mentality has been instilled in the minds of everyone working in the building at 3400 South Water Street. There is a way things are done, and that is the Steeler way. They have brought in hard nosed coaches who know how to lead a group of men into battle. There is also a sense among the players that it isn't just about playing for the love of the game, or for your job, but also about playing for the city and its people.
"The standard is the standard", as Mike Tomlin likes to say. What he means is that when one man goes down, or say James Harrison, for example, the next man needs to raise the standard of his game to that of the man who manned the spot before him. Jason Worilds then understands that to play Steeler football, you are expected to play at a world's championship level...that is the standard. Mike Tomlin expressed to me when I interviewed with him before I signed with the Steelers, that in Pittsburgh I would be competing for a world title every year. What I am trying to convey is that the standard has been being set for 80 years here in Pittsburgh. The Steelers don't sign a lot of free agents, and there is never much upheaval with coaches or core players from year to year like you see on most teams...and there is something to be said for that. The Steelers have a dynamic, a band of brothers type of mentality, that most NFL teams don't have. It is time tested. And if you don't buy into it, it's because you've never played for the Steelers.
Now that my brief Pittsburgh rant is out of the way, let me establish that now that I no longer play in the NFL, I no longer have a vested interest in what happens on the field...so ultimately I don't care who wins or loses. Don't let my Pittsburgh rant hypnotize you into thinking I'm biased. I root for my friends to do well individually, but I don't necessarily cheer for any teams. I will say that when Pittsburgh wins, it is good for the city, so that is nice. But after being a pawn in the business of the NFL for 9 years, I am nothing more than an interested observer at this point.
And on that note, here are a few quick hits following this week 5 of the NFL season...
Peyton, you're a great quarterback. You've got a good defense, and adequate offensive personnel...but you're not in Indy anymore. Yes, you are in the Twilight Zone.
I like Wes Welker's sarcasm. It's a shame the media wants to distort every quote into something its not. Can he just make fun of Tom Brady or Bill Belichick and have it not turned into an episode of 'Dallas'?
Cam Newton will be an elite quarterback one day. In the meantime, can you say, 'sophomore slump'? It happens to most, Cam. You will right the ship...next year.
The Titans are fighting for their season this Thursday night when they take on the Steelers, prime-time, in Nashville. I like the Titans in this one.
Ahmad Bradshaw, why did you decide to rush for 200 yards this week when I benched you for the first time in fantasy? Sheesh.
Jay Cutler...yes, Jay Cutler...I will address what we've seen from him in a future column. In the meantime, can we just do our job and let the linemen do theirs? Thanks.
Lastly, let's start Tebow at quarterback already. (See above where I addressed 'intangibles.') Rex, you have statistically the worst quarterback in football in your starting lineup, regardless of how much money you questionably gave him this offseason.
Party on.