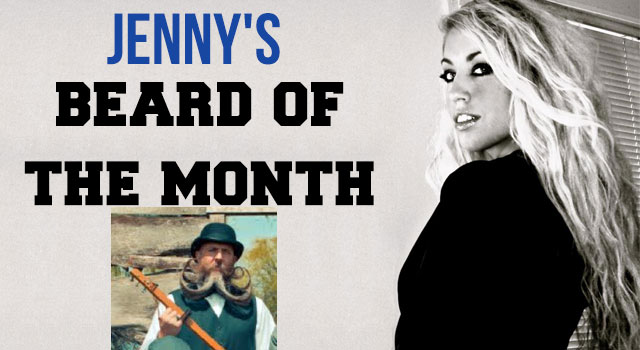 Finding Mr. July was challenging this month, but it was certainly fulfilled by the right person! Meet MR. JULY aka Lyman Robertson. Lyman is a personal beardbud of mine from the bearding community so I KNOW he deserves the title! This husband and father of 3 children(16 year old daughter and twin 4 year old sons) has the whole family involved in beard and moustache competitions! Aside from spending his days as a beard grower, he works as a technology education teacher for grades 7-12. Lyman says, "...Kids need diversity, the unusual and the real..." I wish I had a teacher like Lyman in high school! Mr. July likes a large variation of music but the bands that are tickling his ear drums at the moment are Hatebreed, Lamb of God, 12 Stones, Godsmack, Foo Fighters, Slipknot, Killswitch Engage and Mastadon. Good Stuff! He enjoys karaoke and would even hop on stage with local acts to belt out a song or two! You rock Lyman!!!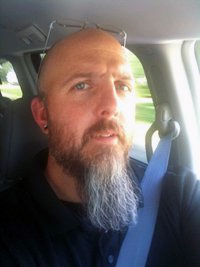 Name: Lyman Robertson
Age: 39
How long have you been growing your beard?: 32 months
Why are you growing your beard?: My Beard is my finger in the air to all of those beard stereotypes and the people that subscribe to them. As new people get to know me, they see that beneath what they thought was a gruff and gnarly exterior is a father of three, a teacher, thinker, music lover, trivia freak and sarcastic Mensa wannabee. I'm not homeless, nor am I hiding from the government or myself. This Beard is ME. Get to know me!
Have you won or placed in any competitions?: I have been so very fortunate to compete in quite a few competitions over the last few years. I placed at the Motor City BMC in 2011, Beard's, Mo's, Anything Goes also in 2011, Again at the Beards of Science in 2011. I hope to add a few more awards to the shelf this year! I hosted Jackson, Michigan's first competition in February of this year with a TON of help from the awesome people of GAFBO.
How did you find out about the bearding community?: A college friend, Rush (of Beadcore), popped up on the facebook scene a few years back and after reading about some of his shenanigans, a search began. I came across the BTUSA site and found GAFBO. From there the bearded community seemed as if to hold out its hirsute hand in friendship and welcomed me wholeheartedly!
Do you belong to any beard club?: I founded the Jackson Beard & Moustache club last year. We are not many, we are not mighty. As the Beard takes time to grow unto itself, so too will our club!
Is shaving anywhere in your future(I hope not!)?: I am hoping, in no time soon, to find the terminal length of my own Beard. It is different for each of us. Hopefully mine is many years away (Much to the disdain of my wife who does like me with facial hair.... just not the full natural beard i have come to love.
What is the best compliment your beard has received?: I would have to say that having the Hour Detroit magazine searching for Michigan Beards, seeing mine and asking me to be a part of a photo shoot for their Best of Detroit edition.
Are there any competitions that we can find you at in the near future?: I hope to make GAFBO's 1st Great Lakes Regionals on Saturday, September 1, at The Loft in Lansing , MI, the Bellefontaine BMC Sat, September 22, at the Holland Theatre in Bellefontaine, OH and Beard Team Ohio's Beard Con on Saturday, Oct 6.
Congratulations to Lyman, our July 2012 Beard Of The Month! If you are interested in throwing your beard in the ring, contact us here.