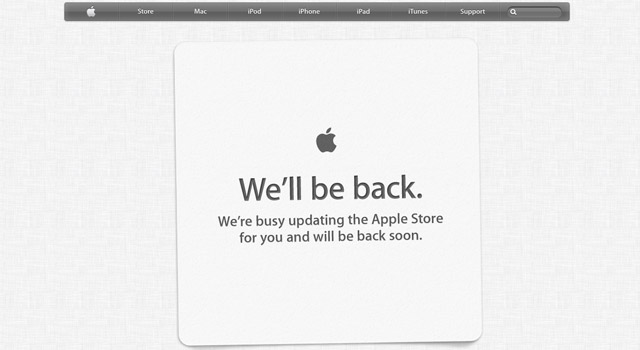 The Apple store is down. When that happens, they tend to add new things to the store. And considering that today is the big WWDC (Worldwide Developers Conference), logic dictates that some cool new stuff will be coming to the only popular store where hipsters like to shop. Here is what is rumored to be added to the store (and iOS 6), and a few things that probably won't make the cut:
Likely
iOS 6 will be released - that is the name of the operating system that runs the iPhone, iPad, and iPod Touch.
Google maps will probably be dropped (or at least overhauled) and include a 3D mode.
Deeper Facebook integration is likely.
The new operating system for desktops and MacBooks called Mountain Lion is also expected to be released.
New models and upgraded features for the MacPro, MacBook Pro, and iMac. This possibly includes "retina" quality screens

, AKA really sharp looking like your iPhone 4 or 4S.



Not Likely
The iPhone 5.

A cure for cancer.

If you want to watch a live blog of the event, Engadget always does a pretty good one. You can check that out here. We'll be too busy trying to cram the developer version of iOS 6 onto our phones so you can enjoy a video of that later.