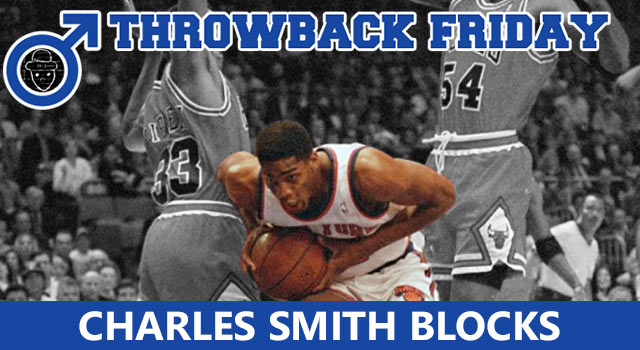 Today's throwback video of the week is brought to you by "NBA: The Entertaining Years." In this video from 1993 we see Charles Smith of the New York Knicks get blocked and stripped four times by several Chicago Bulls players.
Here's How It Played Out
Charles Smith was a great basketball player for the University of Pittsburgh. After playing for the Los Angeles Clippers for a few years, Smith joined the Knicks in 1992. Unfortunately for him, the thing he is most famous for in his time with the Knicks is the play you're about to see. After taking a 2–0 series lead, the Knicks lost the next two games of the 1993 Eastern Conference Finals against the Chicago Bulls. In game 5, Smith had a chance to put the Knicks up 3-2 since they were only down by one point with seconds to go before his four straight attempts from under the basket. Smith tried for the layup but Michael Jordan, Scottie Pippen, and Horace Grant's sweet goggles stopped him. Repeatedly. The Knicks couldn't recover from this loss and the Bulls ended up winning the next game and knocking the Knicks out of the playoffs.
Almost nineteen years later, the game is still known as "The Charles Smith" game.
Where Is He Now?
Smith founded an organization for inner-city school children in Bridgeport, CT to improve academics and provide a center for students to go to get off of the streets, he ran a digital media company in NYC for several years, and became a motivational speaker. He also went back to school at Seton Hall University to finish up his Masters in management. Following his educational path, he became the executive director of the National Basketball Retired Players Association (NBRPA) from 2008 to 2010. Things were looking good for Smith.
Then, in January 2014 Smith traveled to North Korea with Dennis Rodman as part of Rodman's "Basketball Diplomacy" tour for Kim Jong Un of North Korea. It was a bad career move, but hopefully it helps him to become known for something other than "The Charles Smith Game." We're not sure if it's any better, but hey, at least it's something.
Check out the video of the blocks below.