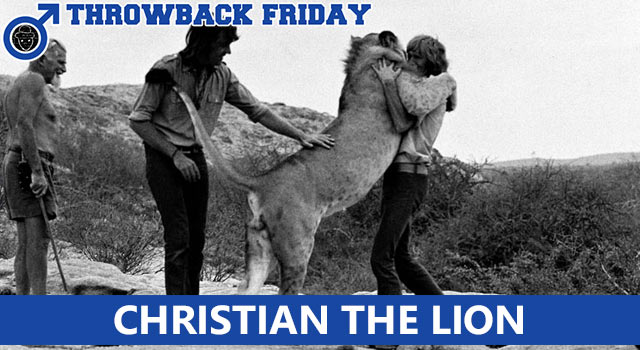 Here's the story: two guys named John Rendall and Anthony Bourke bought a lion named Christian from Harrods department store of London in 1969. We guess that was a thing back then? The 60's sound awesome.
The Background
Eventually, John and Anthony realized that it was a good idea to release Christian back into the wild because, well, he was a freaking lion and they were keeping him in the basement of their furniture store. Although it was the smart move, it was still tough for them since they had grown to love the big cat.
A year after they had sent him back to his homeland, they decided to look for him while they filmed a documentary called The Lion at World's End (aka Christian The Lion). They eventually found him, although they didn't know if Christian would remember them. Spoiler alert; he did. And he hugged them. And it was caught on camera.
What Happened?
Fast-forward about 35 years and something called "YouTube" was pretty popular, someone found the old footage, and it immediately became a viral sensation. The video itself is great, but it includes something that all internet videos should have; Whitney Houston's song "I Will Always Love You." You're about to witness the amazing power of the a lion, the internet, and a power ballad.
On a serious note, did you know lions are a very endangered species? The West African Lion is down to a population of around 400 cats. You can support the Born Free Foundation that released this video by visiting their website and making a donation, or buying the full film Christian - The Lion at World's End. The Born Free Foundation undertakes animal welfare, conservation and public awareness campaigns to prevent animal abuse and to keep wildlife in its natural habitat. Good stuff.
Check out the video below.