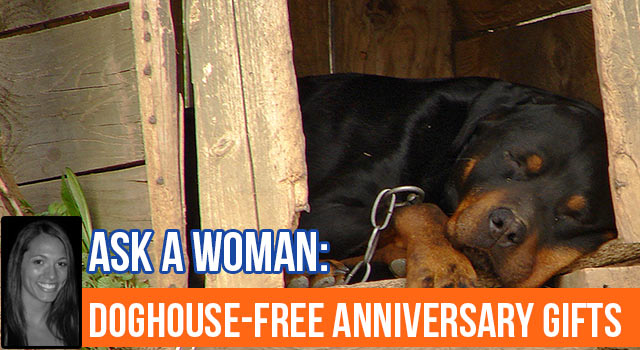 So Rachel, since you're a girl what should I get my wife for our wedding anniversary? She's not big on jewelery and I got her perfume last year that's hardly been used.
Any thoughts? thanks!
---

I feel the need for a disclaimer....
The following represents only my own personal opinion, and does not necessarily reflect that of Bro Council or other contributors therein. Depending on your wife, anniversaries can be serious business. Ask Rachel nor Bro Council can be held liable for any injuries sustained from a catastrophic gift choice.
OK, with that out of the way...
Dear Well-Intentioned Husband,
I'm going to be honest with you...I'm not married. I don't know your wife. I couldn't possibly know how to magically select the most perfect of all perfect gifts for your anniversary.
What do I know? You need help. So, I'm going to try anyway.
1. The fact that you're aware she's not very interested in jewelry is a nice place to start.
It suggests that you have, at some point in your relationship, discussed her preferences. We will come back to this one.
2. Does she wear engagement and/or wedding rings?
I know a couple who were married young and broke without rings. While neither of them particularly felt like anything was missing, the simple white gold bands they exchanged for their 1st anniversary was a meaningful gesture and gift for each of them.
3. Have you checked out the traditional gift that corresponds to your anniversary?
A quick web search reveals the traditional and modern gifts that correspond with each anniversary 1-100. You don't mention how long you've been married, so I can't speak specifically to your year, but I'll offer some sample ideas:
Year 1: Paper/Clocks - Does she like flowers? Learn how to fold some paper origami flowers. If they turn out well, present her with a bunch of them. If they're slightly catastrophic, tuck them into a bouquet of fresh flowers. A simple, pretty watch with an inscription would be a nice alternative....or addition.
Year 2: Cotton/China - She's getting fed up with the dishes in the cupboard, inevitably mismatched as a result of your merging of belongings. Go with her to pick out a mutually agreeable dinner set. The fact that you're not only willing to go, but initiating the visit is the true gift.
Year 3: Leather/Crystal - Is she a handbag/purse girl or a shoe girl? Either way, you've got a winner. For a more personal touch, basic leather embossing is not difficult to learn, and you get to use a hammer. You could also pick out some nice crystal stemware and give it to her filled with champagne. Float some strawberry slices in there for extra effect.
Back to my first point: You, Well Intentioned Husband, are the one who married her...and I hope, for both of your sakes, that you might know her a bit better than an internet advice columnist. Do the best you can to give her something that's meaningful to both of you. And seriously, good luck...you're probably going to need it.
Hoping you survive to ask more questions,
Rachel
Be sure to ask your own question to our panel of women here!