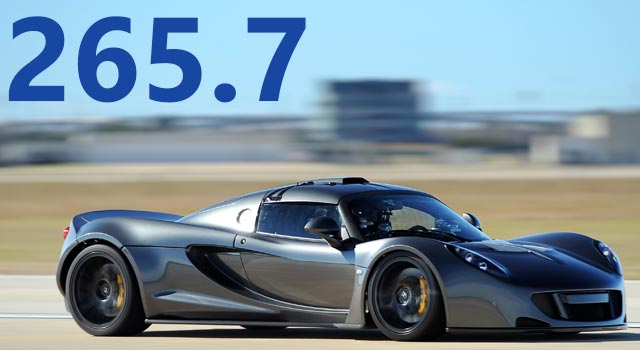 The brilliant folks at Bugatti recently made a special edition of the worlds best car, the Veyron. The "Super Sport" model of the Veyron topped out at 267.8 MPH, making it the fastest production car in the world. Congratulations, Bugatti.
Not so fast (pun intended)! A Texas company, Hennessey Performance, has just made a pretty fast production car themselves; The Hennessey Venom GT. They let it loose on a two mile runway that didn't allow them to fully open it up, and it topped out at 265.7 MPH. So who has the world's fastest production car? Bugatti right? Wrong.
Here's the catch; Bugatti did reach 267.8, but it was with the restrictor plates off. They limit the top speed on their production cars to 258 mph, so all Veyron Super Sports are delivered to customers with the restrictor plates in place.
So who is the fastest? You know which team John Hennessey is on:
While a Veyron Super Sport did run 267.8 mph, Bugatti speed-limits its production vehicles to 258 mph. Thus, at 265.7 mph the Venom GT is the fastest production car available to the public.
Don't worry, the fine folks at the Guinness Book of World Records are on the case. They have taken the title away from both, and have brought in some experts to determine how to classify this. While they sort it out, enjoy the video of the Venom "breaking the record" and marvel how quick it is to hit the 1 mile marker. And try not to blink at the 4:24 mark or you might miss the car.
I honestly expect this article to be updated very quickly, I don't see the Germans taking this well.