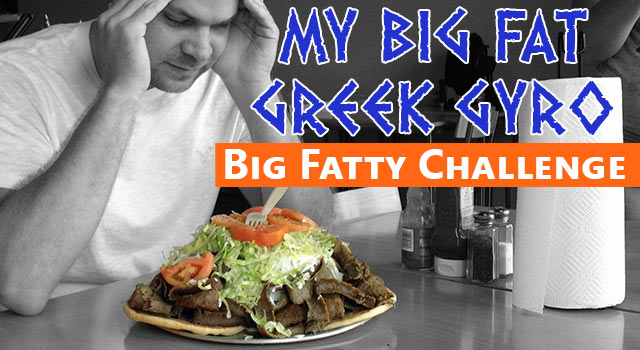 Recently, Bro Council traveled to Cranberry, PA to take on the 'Big Fatty Challenge' from My Big Fat Greek Gyro. Pat and I attempted to eat 3 pounds of gyro meat topped with 1.25 pounds of lettuce, tomato, and tzatziki sauce. If we completed the gyro within an hour, we got our meal for free, but if not we would be added to the "Wall of Shame." Are we heroes or did we bring shame to Bro Council. Let's find out!
Ray's Take
Taste:
The gyros were great. The meat was moist and seasoned well, and the tzatziki sauce was on point. Looking around the restaurant, even the regular gyros were big, so you would definitely get your money's worth here. The biggest recommendation I can give is that I actually had a craving for a gyro the next day. After going through this challenge I thought I would I would always look at lambs with disdain, and my taste for gyros would be forever reduced, but it was good enough to come back to the next day.
Service:
The staff was great. They were friendly, the service was quick, and they even taunted us a little bit which we appreciated.
Atmosphere:
This is a gyro place with big tv's to watch sports on and a soda dispenser. Perfect. The only thing they could add to make it better would be recliners while you eat, and unfortunately that's not practical.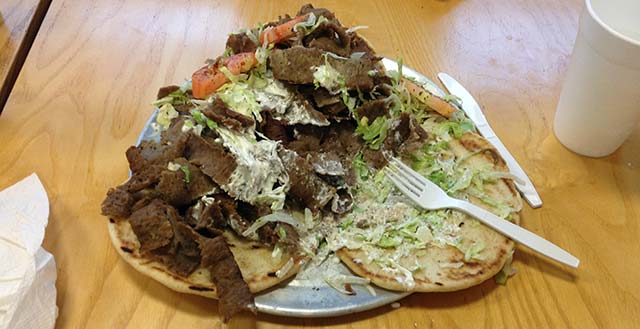 Pat's Take

Taste:
No other way to say it, excellent. They take the time to hand make each gyro made to order when you arrive. The pitas are warmed on the grill before being stuffed with a more then substantial portion of meat, and that's before they start adding the lettuce tomato and onion. In all honesty just one gyro will fill the normal person. The tzatziki sauce they use is good, even though I'm a fan of ranch on my gyros. I've had some pretty bad attempts at this before from other places but I was pleasantly surprised by it. In the future I probably will stick with just ranch, so it would be great to see some hand made ranch for an extra touch, but if not I won't be deterred from going back.
Service:
The staff at the location we attempted our challenge at was wonderful. I'm not one who is a big tomato or onion eater, and they were happy to make a plain made-to-order for me. I've been here before and the staff always has a smile, and the tables are always clean. Plus, they really seem to care about the taste of the food.
Atmosphere:
My Big Fat Greek Gyro is a small establishment in a strip plaza where you order at the counter. It's clean, and very casual just how I like my food places. There aren't many decorations, but I don't need the bells and whistles for gyros. A clean place, friendly staff, great food, and the big screen with a sporting event on is enough for me.
The Results
Unfortunately, neither Pat nor Ray were able to finish the 4.25 pound challenge. After weigh-in, Pat had 2.75 pounds left and Ray had 2.33. Technically, the win goes to Ray but in reality they were both losers here.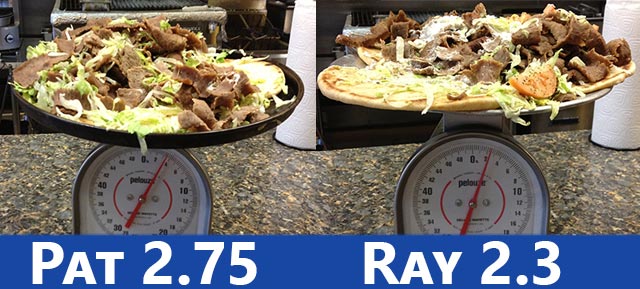 If you go to My Big Fat Greek Gyro in Cranberry, look for us on the Wall of Shame, and check out a video of our experience below if you want to get real in depth with the gyros.