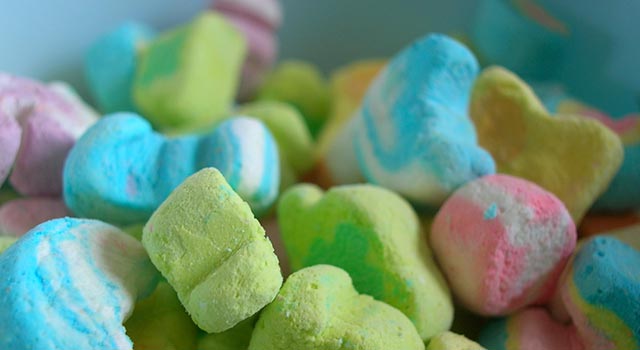 Question: What's the best part of cereal? Answer: it's the marshmallows, of course.
I was walking through my local grocery store a couple days ago and was pretty disappointed that there weren't more cereals with marshmallows in them. Even the boxes that had them, didn't have a lot of them. My love of sugar started in my childhood when I used to eat all of the wheat pieces from Lucky Charms first so that I could eat all of the marshmallow pieces at one time to finish off the bowl. You know the only thing that would be better than marshmallows in cereal? Bacon and marshmallows. The sweetness of the marshmallows mixed with the saltiness of the bacon? Perfection.
So imagine our excitement when a reader sent us to check out this site: Cereal Marshmallows

The goal of Cereal Marshmallows is to "Deliver you the absolute best and Crunchiest marshmallows available." That's what I'm talking about! There's no wheat-filler in the bags they sell, just the marshmallowy goodness. Enjoy your new favorite cereal!
Bonus: While I was doing some "article research," I found a recipe for homemade Lucky Charms ice cream. The best part? You soak the cereal pieces in milk to get the ideal flavor.
1 1/2 cups whole milk
1 1/2 cups Lucky Charms cereal
1/3 cup sugar
4 eggs yolks
1 1/2 cups heavy cream
1 teaspoon vanilla
1 cup Lucky Charms marshmallows
Soak 1 cup of cereal in milk for 10 minutes. Drain the cereal from the milk and put milk in a pot with the sugar over medium heat. In a separate bowl, whip the egg yolks. Just as the milk is beginning to simmer, stir it into egg yolk bowl, half cup by half cup, stirring continuously. Add the egg yolk mixture back into the pot on the stove slowly. Continue to stir until the mixture thickens into a custard and coast the back of a spoon. Remove from heat and pour into a separate bowl. Add the heavy cream and vanilla. Cool in an ice bath or in the refrigerator. When mixture is cool, pour it into the ice cream machine and turn. When you've reach the consistency you want, stir the Lucky Charms marshmallows and remaining half cup of cereal in by hand.