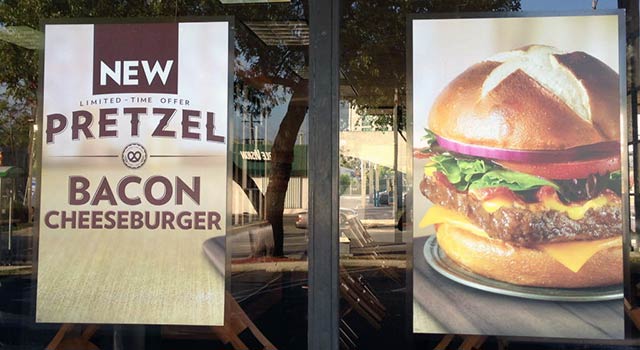 Are you ready for a cheeseburger with these specs? Warm cheddar cheese sauce, thick-sliced applewood bacon, lettuce, tomatoes, red onion and a smoky honey mustard stuffed on an artisan pretzel bun.
We are.
This week, Wendy's is rolling out the much-anticipated Pretzel Bacon Cheeseburger. The fast food chain continues to put out interesting new foods, and their recent new burger additions, including the W Burger and the Baconator, have been a success. The new burger is rolling out across the USA today, and should be available at all Wendy's by early-July.
Wendy's Chief Marketing Officer Craig Bahner is laying on the bravaod and recently told the USA Today that the burger is "the most anticipated new product in recent history." That's a lot to live up to, so what's our take on it? We had an early sample of the burger, and our very own Rex Jones had this to say:
It's salty, but it's good. The sandwich doesn't fall apart in your hands, and the toppings work well together. The only problem, which I don't really think is a problem, is that you're going to need a bunch of napkins. The burger is juicy, and when you add in the honey mustard sauce and melted cheese you get a burger that will be all over your hands.

Is this the best fast food burger I've ever had? Maybe. If they made this in a double-patty / double-back config I think it would be. Nice work Wendy's.
Now we just need Taco Bell to start carrying their breakfast tacos nationwide.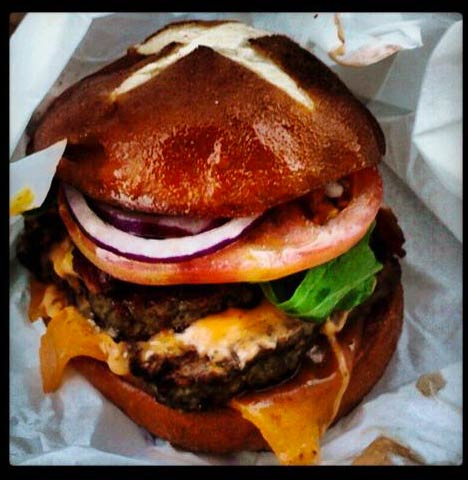 Photo Courtesy of Darren Rovell