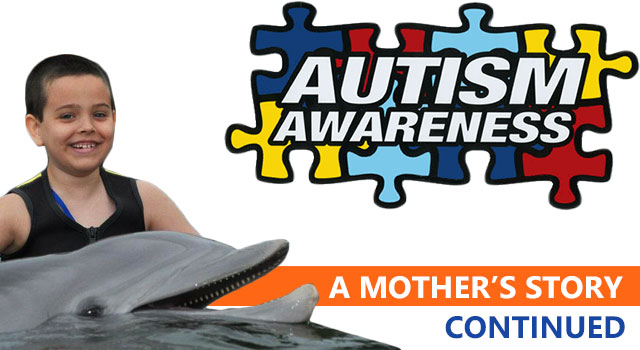 April is autism awareness month, and we hope that this continuing story of a mother of a child with autism will help people understand more about life with autism.
I'm going to take a moment and be one of "those moms." You know, the ones that talk endlessly about their kids and how wonderful they are, even though no one really wants to hear it. Well, bear with me while it is my turn. My son, Corbin, is 11 years old and a student in the 5th grade. He is intelligent, funny, caring, curious, and handsome. Corbin has quite the sense of humor, an infectious laugh, beautiful blue eyes, and a gorgeous smile. Like most boys, he finds the passing of gas hilarious, and enjoys entertaining others with his talent of making fart noises. Corbin also enjoys playing video games, going to the movies, swimming, being outside, and has recently started participating in an archery program. When I hug or kiss him around other people, Corbin rolls his eyes and says, "Mom! You're embarrassing me!"
Sounds like a typical 11-year-old boy, right? What if I told you that he has autism?
Autism spectrum disorder (ASD) and autism are both general terms for a group of complex disorders of brain development. These disorders are characterized, in varying degrees, by difficulties in social interaction, verbal and nonverbal communication and repetitive behaviors. ASD can be associated with intellectual disability, difficulties in motor coordination and attention and physical health issues such as sleep and gastrointestinal disturbances. Some persons with ASD excel in visual skills, music, math and art.
Autism statistics from the U.S. Centers for Disease Control and Prevention (CDC) identify around 1 in 68 American children as on the autism spectrum - that's a ten-fold increase in prevalence in 40 years. Careful research shows that this increase is only partly explained by improved diagnosis and awareness. Studies also show that autism is four to five times more common among boys than girls. An estimated 1 out of 42 boys and 1 in 189 girls are diagnosed with autism in the United States. (Information found at autismspeaks.org)
Corbin was diagnosed with autism when he was 3 years old. At that point, he was pretty much nonverbal, and we were not sure if he would develop the ability to communicate verbally - ever. Even though we suspected that Corbin had autism, it was still very difficult to hear the diagnosis. I immediately threw myself into researching autism, and while crying one night, decided that I would NOT let autism define my son. I vowed to be his voice and advocate, to believe in him, and be his biggest cheerleader to help him reach his potential.
Over the next few years, Corbin did just that. He amazed us every day with the progress he made, not because we were in his face every moment, trying to force him to be "normal," but because we loved him unconditionally and let him be Corbin. He has blossomed into a talkative, loving, generous kid who has touched the lives of those who have taken the time to get to know him. He is a great big brother to his sister, Mallory, and loves her dearly, although he doesn't always want to admit it. My favorite "Corbin moments" are when he approaches my husband and says, "Dad, let me give you a hug. You are very special to me." Or he says "Mom, I love you" without me saying it first. These words are the best thing a mom can hear when, at one point, we weren't sure if our son would ever talk.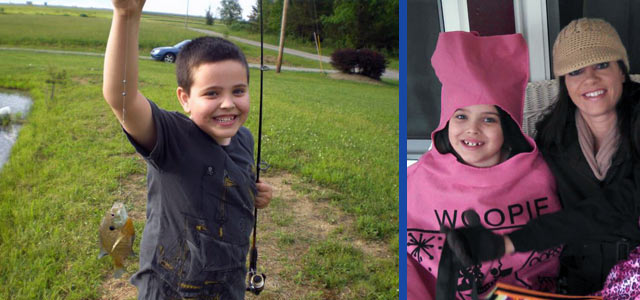 Believe it or not, people have actually opened their mouths and spewed ignorance and stupidity, saying things like "I never knew anything was wrong with Corbin until someone told me he has autism." There is nothing "wrong" with my son or anyone else who has autism or any other disability. Ugh. I HATE that word - it automatically gives the assumption that these individuals do not possess intellect or ability. We all have challenges or things that we cannot do without the proper modifications or accommodations. For example, I cannot ice skate. I have tried, but I just can't do it. Which, if any NHL'ers are reading this, my preferred accommodation while learning to ice skate would be hand in hand with Kris Letang and Taylor Pyatt. Anyway...
Don't get me wrong, Corbin has his struggles. Probably the most difficult area for him is social interactions and making friends. Some of the kids in his class are very understanding and treat Corbin well, and some do not. Thankfully, we have a wonderful, supportive, loving network of family members, friends, and neighbors that adore Corbin, and accept him for the amazing little dude that he is. Corbin loves going next door to hang out with our neighbors, and they enjoy talking with him and laugh at the quirky, humorous things he says.
Years after his diagnosis, Corbin continues to amaze us. We still have a long road ahead of us, but we have embraced our journey with autism as a family and are learning so much along the way. It has been one hell of a ride, but I wouldn't change a thing. I will continue to fight his fight, to be his voice, and to advocate for him until he no longer needs me to.
As the mother of a child with autism, I ask that you be accepting and understanding of others' differences, as we are all more alike than we are different. Keep in mind that autism is not selective, it can affect any family at any time.
I will close with some of my favorite quotes:
"I won't change the way my child views the world, instead I will change the way the world views my child." - unknown
"You must be the change you wish to see in the world." - Mahatma Gandhi
"I don't want to be fixed. I don't want to be cured. I just want to be respected, accommodated, and understood." - Elisia, wife and mother on the autism spectrum; autism advocate
"Autism is not a tragedy. Ignorance is the tragedy." - unknown
For more information about autism, visit autismspeaks.org or autism-society.org, and you can check out the first article in this continuing series here.